What a start to 2016! Mosaic had the privilege of hosting Mr Aubert De Villaine; the most famous Pinot Noir producer in the world for a first rate tasting that took place on the 12th January 2016.
In true, grandiose Mosaic-style, we welcomed our esteemed guests with a glass of Champagne Salon 1995, the perfect introduction as it was still so clean, fresh and lively! This is undoubtedly one of the best aged champagnes ever produced and a fitting start to such a spectacular evening.
Mr De Villaine delivered a short presentation in the Petit Alhambra Cinema at Restaurant Mosaic, which was plain and simple yet precise and dignified, proving that despite his high regard in the wine industry, he is a very humble yet focused man.
We then moved on to the main event – and closer to heaven! An incredible line-up of 8 different wines from the 2009 vintage awaited us in the Mosaic tasting room... After the initial excitement died down and everyone was seated we started serving the wines: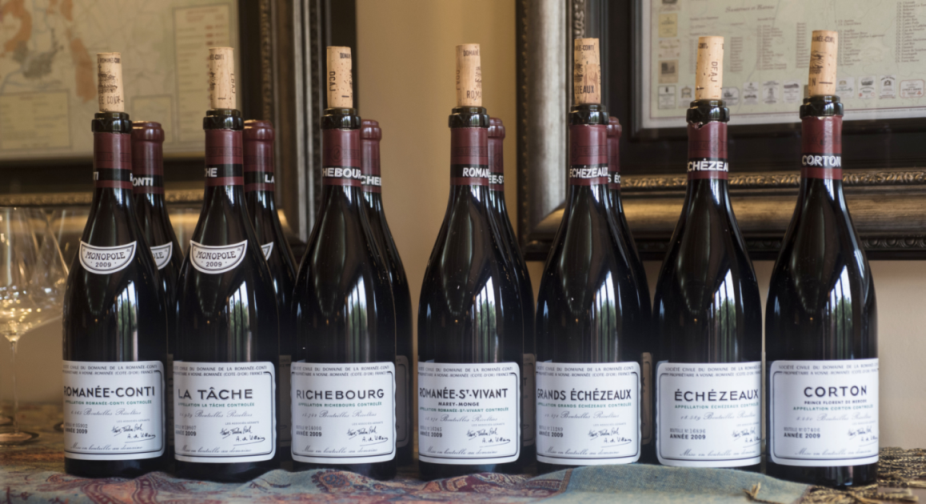 Corton 2009:
The first ever red wine made by Romanée Conti from the Côte de Beaune and a wine that Mr De Villaine is rightfully very proud of. A wine to remember, already opened it was as powerful as expected, full of red fruit flavours with soft tannins and a lingering aftertaste.
Score 94/100
Échezeaux 2009:
The second wine served was the very feminine Échezeaux 2009 - elegance at its best! The wine showed an impressive long finish with real terroir impression.
Score 95/100
Grands Échezeaux 2009:
The more masculine wine, the Grands Échezeaux 2009 was still a little closed on the palate, but showed immense ageing potential with a distinct and different character.
Score 95/100
Richebourg 2009:
As expected this was an incredibly powerful wine, complex and structured, capable of ageing for decades if not more. Not my favourite wine for the evening but a true expression of the terroir.
Score 93/100
Romanée Saint-Vivant 2009:
This wine showed the elegance of the Échezeaux on the nose, yet delivered on the palate with the power of the Grands Échezeaux. A classic example of a well-made Vosne-Romanée.
Score 95/100
La Tâche 2009:
We were fortunate and honoured to have the extremely rare opportunity to taste this powerful Pinot Noir, which was impressively well balanced. We would recommend however to wait another 15 years for the wine to reach its full potential.
Score 98/100
Romanée Conti 2009:
The highlight of the evening … every comment ever written to describe a truly great Pinot Noir does not do this wine justice! Elegant, yet powerful with great complexity and a lingering aftertaste that tantalizes the taste buds. An once-in-a-lifetime opportunity even for a sommelier as the opportunity to taste or even hold a bottle does not come along every day!
Score 98+/100
Montrachet 2009:
The star of the evening for me however was the beautiful Montrachet 2009! Quite simply this is the best Chardonnay I have ever tasted – and I have tasted many! The deep hay / lime skin colour, promised a powerful structure which started on the nose, emanating well integrated wood notes with citrus and a creamy vanilla combined with stone fruit flavours. On the palate the wine talks to you … Incredibly well balanced, yet still not fully mature, it shows its full potential in the extra-long aftertaste. I left earth and paradise was my new destination…
Score 100/100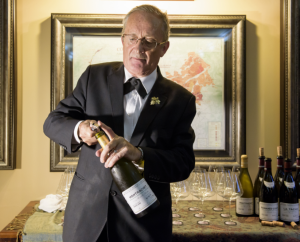 After we finished this incredible line-up of wines we moved on to have a special dégustation menu, carefully composed by Chef Chantel Dartnall, where we were treated to some more sensational wines from the Romanée Conti stables, including the Vosne-Romanée 1er Cru 2006, Bâtard-Montrachet 2000 (a wine which yields only one barrel a year and is reserved from private use at the estate), Romanée Saint-Vivant 2003 and the La Tâche 2005.
For many wine lovers these wines will forever remain an untouchable legend, and I am humbled to be lucky enough to check this experience on my bucket list.
An unforgettable evening where dreams came true with angels choirs at heavens doors and when a legend became a friend!
Santé
Germain