The Mosaic-team visited Kanonkop last week to participate in the harvest and learn more about what goes into the making of a great wine! What an experience! We experienced the friendliest welcome from the team at Kanonkop Wine Estate, with everyone going out of their way to help us during our four day visit, even while in the midst of the harvest (averaging at about 60 tons of grapes per day)!
It was such a privilege for us to deal so intimately with Pinotage, learning more about its characteristics and how to best extract the optimum flavors from this truly South African grape.
We had hands-on involvement during the entire winemaking process from:
- Visiting the different vineyard sites and seeing in person the unfortunate recent fire damage with the winemaker, Abrie Beeslaar.
- Tasting the grapes in the vineyard to determine the sugar levels – a step that is instrumental in the decision of when to start the harvest.
- Joining in the actual harvest – starting with some early mornings working through the heat of the midday sun in an effort to get the best out of the vineyards!
- Sorting the berries by hand on the sorting tables to ensure only the purest and best grapes are picked before crushing – a laboursome process that just made us realize how much effort and time goes into the making of a wine at this legendary estate!
- Being involved with the process of making the selected yeast solution for the fermentation process – a mathematical process that is measure to the milligram to ensure the best result.
- Checking the sugar density and temperature of the grapes in the tanks every 2 hours (as is the practice at Kanonkop).
- Punching the cap to allow the juice in the tanks to extract the required color from the Pinotage grapes.
- Refilling the barrels (an operation done every 7 weeks for the 1 500 barrels in the cellar).
Veronica, Moses and I were awestruck at the entire process and the absolute creative process and professionalism that the winemaking team at Kanonkop Wine Estate exhibited. Meticulous records are kept of each movement or decision made in the cellar from the moment that grapes are harvested to the moment the wine goes into the bottle. It is no wonder that Abrie Beeslaar has been named Winemaker of the Year – with such attention to detail and incredible supporting team behind him, Kanonkop is truly deserving of all the accolades thrown their way!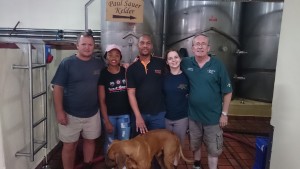 We departed Kanonkop Wine Estate with a better understanding of the winemaking process and the hard work that goes into the making of a bottle of truly exceptional wine…
Mosaic would like to extend our warmest regards and thanks to the Kanonkop team, from the amicable owners, Johan & Paul Krige to the winemaker and his team in the vineyards and cellar, for making our experience such a memorable one!
Santé!
Germain