The perfect score is an exceptionally rare occurrence and to acquire such an extraordinary wine is remarkable. Mosaic is fortunate enough to have a few of these classic beauties in our cellar. At an exclusive wine tasting event on Friday 12 August we showcased the wines from our cellar that scored 100 points from world renowned wine critics, Wine Spectator and Robert Parker.

Wine Spectator is a lifestyle magazine that focuses on wine and wine culture, and award ratings to the deserving wines. The editors review more than 15 000 wines each year in blind tastings. Every issue of Wine Spectator magazine contains 400 to 1 000 wine reviews with detailed tasting notes and drink recommendations, according to stringent standards and relying on the proven ability and experience of their editors as tasters and critics.
Robert M. Parker, Jr. is a world renowned wine critic who started his own "independent consumer's guide," in 1975, largely because of the scarcity of reliable information on wine quality. The first issue of The Wine Advocate, a complimentary issue, was sent out to mailing lists purchased from several major wine retailers. The initial number of charter subscribers in August 1978, was less than 600. Thirty-eight years later, The Wine Advocate has over 50 000 subscribers, in every state in the United States, and in over 37 foreign countries.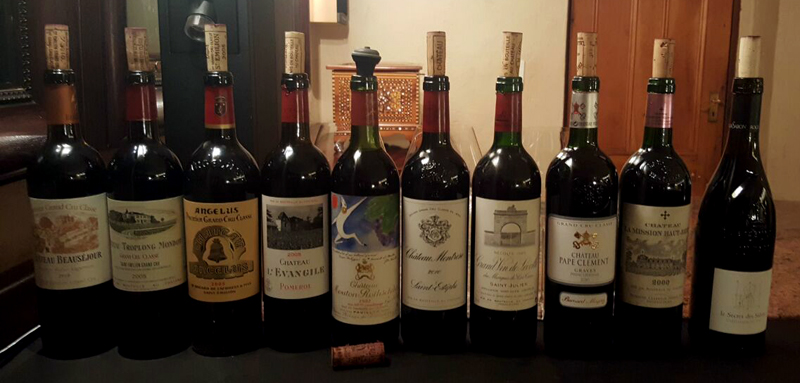 We started our line up for the evening with the only non-Bordeaux wine – a classic "secret" from Châteauneuf-du-Pape (and a firm favourite around the table) - Domaine Roger Sabon Le Secret des Sabon 2007. An exquisite wine with massive depth, richness and seamless texture! It is immensely perfumed and complex and the finish virtually endless! We then moved on to the list of very impressive Bordeaux wines including such beauties as Château Beauséjour 2010, Château L'Evangile 2005, Château Léoville Las Cases 2000 and Château Pape Clément 2010. All incredible wines with full bodied texture and firm tannin structure that is meant to last several decades if not more. There were also a few legendary wines that you do not often get the chance to taste, for instance the multi-dimensional Château Angelus 2005 with flavours of ripe, rich and concentrated fruit - a full-bodied wine with beautifully integrated tannins.
Another unforgettable wine was Château Mouton Rothschild 1982 - one of the legends of Bordeaux! The saturated, purple coloured wine has thrown off the youthful style that existed during its first 25 years of life and has developed secondary nuances like cedar and spice box. The wine is still amazingly vibrant and pure and has an extraordinary complexity and brilliance! The final wine for the evening was another show-stopper, ending the night on a high note! Château d'Yquem 2009 has immaculate weight and volume in the mouth, with layers of heavily botrytized fruit. It builds to a spicy finish with hints of marzipan and pralines in the background that lend it an untrammelled sense of exoticism! Simply a super sexy wine!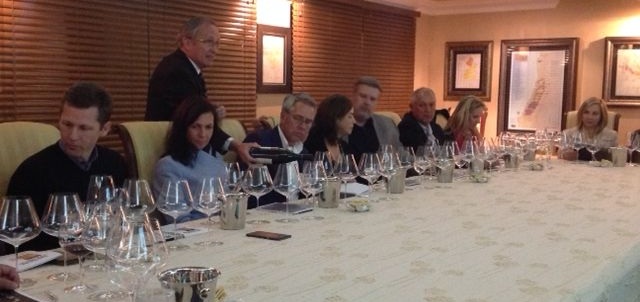 What an evening!
We are both humbled and honoured to be able to share such award winning wines with our loyal patrons!
Santé!
Cellar Team