Tinta Barocca made its way out to Boplaas by pure chance when Boplaas patriarch, Danie Nel, on returning from a visit to the Swartland in the 70′s, proceeded to plant Shiraz as he thought this grape might have a great future in the Klein Karoo; however it was later discovered by his son Carel that his father's vines were indeed Tinta Barocca and not the desired Shiraz. A trip to Portugal followed, where the Nel's befriended many of the Douro's top Port producers and from whom they learnt the art of crafting fine fortified wines.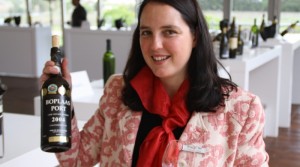 Margaux Nel - daughter of Carel Nel, owner of Boplaas Wine Estate.
Margaux Nel continued in her father's footsteps in continuing to produce award winning Port style wines, while taking over the reins from her father, Carel. Boplaas Family Vineyards, winemaker Margaux Nel and her Boplaas Tinta Barocca 2014 have been nominated as one of five finalists in the Diners Club Winemaker of the Year 2015. Margaux and partner Leon Coetzee were also awarded five stars for their Boplaas Heritage Reserve White Muscadel 2012, the Cape Vintage Reserve Port 2012 and their Potstill 20 year Reserve Brandy at the launch of the 2016 Platter Guide.
The selection of Portuguese cultivars grown on Boplaas include:


Tinta Barocca, Touriga National and Souzāo for red wines and Port style wines


Verdelho for white wines.


Boplaas has been one of the most constant recipients of awards for their Port style wines until today, however the dry red Portuguese wines is starting to show that Calitzdorp in the Klein Karoo can produce excellent dry wines if the selection of cultivars is correct. We tasted some of the following wines with Margaux:
Boplaas Touriga Francesca 2012:
Very deep ruby color with distinct blackcurrant and red fruit aromas. On the palate it shows soft ripe tannins and minty, chocolate flavors with a lingering aftertaste. Score 89/100
Margaux and Leon also produce a range of very interesting boutique wines under the name of The Fledge & Company. All the wines are produced in very small quantities yet shows top quality. The selection includes:


Steen (old name for Chenin Blanc) sold under the names of: Klipspringer (Swartland) and HoekSteen (Stellenbosch).


A blend of Chardonnay and Viognier sold under the name Vagabond.


Vagabond 2015:
Lovely yellow color with green tints, this is an aromatic wine showing aromas of peach and jasmine on the nose. Aged in 300 litres old barrels, it is a blend of Chardonnay, Viognier and Harslevalȕ. Full bodied, fully skin fermented like a red wine and barrel fermented, this shows great complexity toward becoming a great food wine - superb aftertaste that lingers. Score: 91/100
And my last selection of the day:
Fumé Blanc 2015:
This Sauvignon Blanc (Fumé Blanc) barrel fermented and matured sur lie (on the lees), has a high French style of minerality and flint in the truly Sancerre style. It is powerful on the palate with excellent acidity - great ageing potential up to another 6 to 8 years. Score 93/100

Santé!!
Germain