André Bruyns worked a stint at Rijk's in Tulbagh before becoming assistant winemaker to David and Nadia Sadie in the Swartland. He now also makes his own wine under the "City on a Hill" label.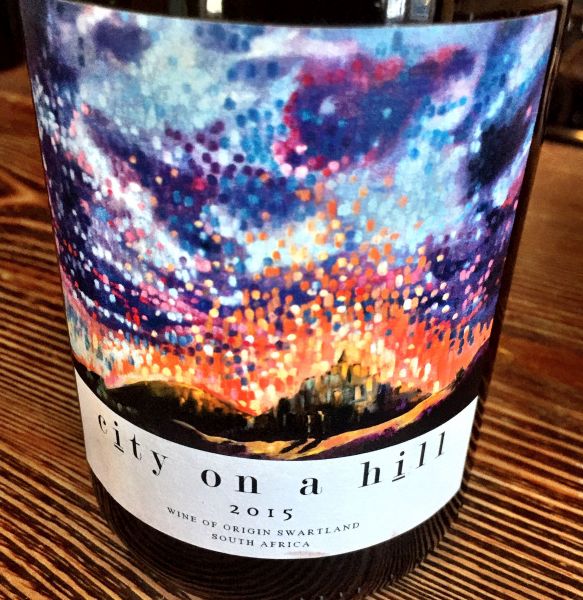 City on a Hill White is focussed on old dryland bush vine Chenin Blanc vineyards from the Swartland. The maiden 2015 release is from a vineyard planted in decomposed granite in the Siebritskloof of the Paardeberg in 1981.
Consisting of 86% Chenin Blanc, 12% Roussanne and 2% Viognier, the juice was fermented spontaneously with maturation lasting 10 months in fourth-fill barrels. Awarded 93 points for this maiden vintage by Tim Atkin in his 2016 SA Wine Report, this wine has already shown that it is one to be reckoned with.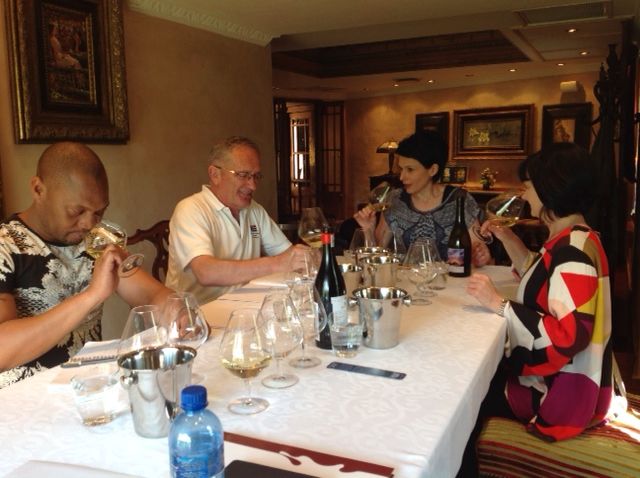 Tasted on Tuesday 25 October by:
Cobus, Germain, Moses, Mari & Chantel
Glass: Peugeot No. 1
Color: Sparkling golden color, with slight transparent rim.
Nose: Fresh citrus with floral notes, Macadamia nuts, honey that becomes more prominent as the wine develops in the glass. During the re-tasting after one hour, the honey notes are very prominent with Honeysuckle flowers, Orange blossoms and even a hint of Jasmine and creamy toffee on the nose.
Palate: Fresh citrus carried over from the nose, slight honey sweetness, freshly grated green apple, well balanced acidity, nice and clean on the palate, long persistent aftertaste. Refreshing and pleasant - it fills the palate.
Notes: Elegant and classy wine - good example of the cultivars in the blend.
Aging: Will keep for a long time. It will be interesting to lay these wines down for three to five years and then drink during the following decade.
Pairing: We recommend serving this wine with salty seafood - stronger fish, mussels, cockles. Also with cheese - maybe a very young Eppoise, or Old Amsterdam and De Pekelaar.
Score: 90 - 91/100
We are so impressed with this first wine from André we will be offering the City on a Hill White 2015 to our guests as the aperitif wine for our "Special Selection from the Cellar" during the next few days! So be sure not to miss out!
Santé!
Mosaic-Team