The Mosaic Team has returned from their annual winter break rejuvenated and rested! Excited to be back at work, Germain and Moses wasted no time at all to jump back on the "tasting wagon" and the first order of business was the pre-release tasting of Eben Sadie's new vintage release of his Columella and Palladius, as well as his much anticipated Old Vines Series wines.
A true visionary, Eben Sadie has identified the very best old vines across the Cape, revived them with natural farming and captured their essence using simple and traditional winemaking. Due to the ever-increasing demand and limited availability, these wines are only available on allocation and Restaurant Mosaic is proud to be one of the chosen establishments in South Africa to receive a limited amount of these wines to showcase on our wine list.

According to Germain and Moses - "The magnificent 2016 vintage once again delivers another level of depth and complexity, as we have come to expect from Eben Sadie, leading to some of his most exciting and profound wines yet - earning some of the highest scores given by The Mosaic-team this year."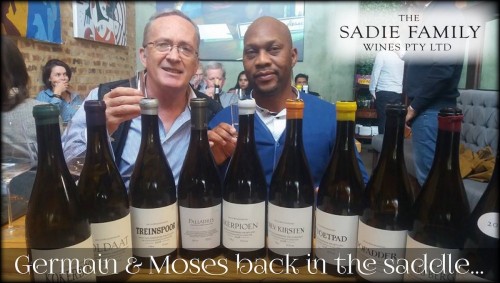 Pofadder 2016: A 100% Cinsault with good red fruit on the nose. Light on the palate with soft tannins and a good finish. Keep for 5 years before drinking. Score 90/100
Soldaat 2016: Perfumed and floral with classic Swartland character. Medium-bodied Grenache, elegant and well-structured with a clean finish. Score 90/100
Treinspoor 2016: Full-bodied Tinta Barroca, smooth yet with powerful tannins. Shows beautiful black fruit flavours with well-integrated acidity and a fresh finish. Score 91/100
Columella 2015: A blend of Shiraz, Cinsault, Grenache and Tinta Barroca. Full-bodied with a touch of sweetness on the palate. A big wine, it needs to be decanted. Score 93/100
Skerpioen 2016: Blend of 50% Chenin Blanc and 50% Palomino. A lovely straw colour, clean on the palate with chalk soil influence, excellent acidity, great balance and an elegant finish. Score 90/100
Skurfberg 2016: Chenin Blanc from Clanwilliam, it full-bodied, complex and superb on the palate. Similar to the Botanica Chenin Blanc style. Score 91/100
Kokerboom 2016: Green in colour with the classic Semillon nose of tropical fruit. The wine took 8 months to ferment with no filtration. Score 91/100
T Voetpad 2016: A field blend of Chenin Blanc, Palomino and Semillon Gris. Nutty aromas with good complexity on the palate and an excellent mid palate, leading to a clean finish. Score 91/100
Mev Kirsten 2016: Chenin Blanc planted in 1905 in Stellenbosch. A very small production with a powerful nose and complex palate. A lingering aftertaste, this is a real food wine. Score 92/100
Palladium 2015: Eben's signature wine - a lovely colour, fresh on the nose with a pleasant balance between fruit and lees extraction. A beautiful mid-palate, with well-integrated acidity - can age for 10 years plus. Score 94/100
We look forward to receiving these wines in the Restaurant Mosaic cellar soon and sharing them with our loyal patrons and fellow wine connoisseurs!
Santé
Germain & Moses