The Mosaic Team recently had the opportunity to taste the latest release from Andre Bruyns, the assistant winemaker for David & Nadia Sadie, who launched his own wine label in 2015.
We were impressed by his first vintage and now again his second release has shown his commitment and passion for the wines he cherishes. During a recent visit to Mosaic, Andre explained that he is still experimenting with the blend and this year added 8% Viognier to the Chenin Blanc component. Grapes were harvested in January from Swartland old-vine vineyards - two separate Chenin Blanc vineyards in Swartland - both planted in 1981 and bush vine Viognier from a neighboring farm.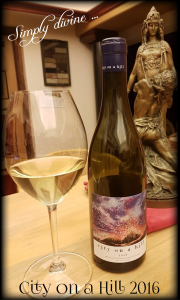 Whole bunch pressed and aged in old vats for 10 months, the City on a Hill 2016 is an exciting vintage with a clear, light golden-yellow color. On the nose, we found honeycomb, vanilla, apricots, Golden Delicious apples, limey notes, but we all agreed that it is still shy and the wine should be decanted during future tastings. The influence of the added Viognier also became more prominent in the glass over time, with notes of flowers and perfume after two / three hours.
The palate is clean and sweet with a bold entry, showing flavors of dried apricots on the front palate, prominent citrus notes in the middle and salty minerals at the back of the palate. Bay leaves and herbaceous notes become prominent as the wine develops over time.
We would recommend this wine with skate wings or a lean white fish roasted or pan-fried with caper-butter sauce. Also, Bresse chicken (but not with a cream sauce). Cellar this wine for 3 - 5 years before drinking – this one is for the long haul.
Sante
The Cellar Team