The Restaurant Mosaic Team was first introduced to Chris & Andrea Mullineux shortly after their first vintage was released. At the time the Swartland was still a controversial winemaking region in South Africa and they had to work exceptionally hard to prove the quality of, not only their wines but also the region they chose to call home.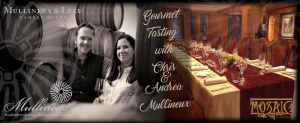 Over the years we have seen them grow from a modest beginning into one of the most revered and well-known wine estates in South Africa. They have focused diligently on the exceptional terroir of the Swartland and have chosen to work with the cultivars that work best with the soils that is unique to the region. It has been a long road, but with a string of awards, both local and international, they have managed to turn the wine-world on its head – making the Swartland the place where everyone wants to be …
"Our aim is to produce wines that are a true expression of the Swartland. 

All steps of our winemaking processes are taken with this ultimate goal in mind 

and we pay the highest possible attention to detail in everything we do. 

A natural minimalist approach is followed both in the vineyard and in the cellar. 

We work closely with a select group of growers, who follow sustainable, 

reasoned farming practices. In the cellar, apart from minimal amounts of 

sulfur, nothing is added to, or removed from, our wines. 

We do not make use of any yeasts, acids, tannins, 

enzymes, or fining and filtering agents."
~ Chris & Andrea Mullineux
We have followed their outstanding path to success with eager anticipation, building up a collection of wines from their very first vintage in 2008, hoping for an opportunity to showcase these wines and share them with our loyal fellow wine aficionados. After waiting patiently for many years, this year we finally managed to get both Chris & Andrea together for a weekend tasting of some of their finest (and oldest) wines.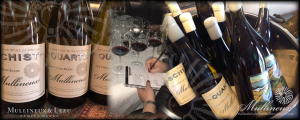 Due to the sheer range and variety of wines available, we decided to host the tasting event over two days, starting with an evening tasting and wine pairing dinner on Friday, 1st of September, followed by a morning tasting and wine pairing lunch on Saturday, 2nd of September at Restaurant Mosaic. Chris & Andrea were both in attendance and were excited to share their wines with our distinguished guests.
On Friday evening, we focused on tasting the award-winning single terroir Syrah wines, grown in the Swartland on granite, schist and iron soils. We added one of Andrea's extraordinary wines made especially for the 2014 Cape Winemakers Guild Auction, from the rare Sémillon Gris grape – the perfect introduction to a stellar tasting event. Another interesting wine was a red field blend made by Andrea for their project, Fog Monster Wines in Amador County in the Sierra Foothills of California in the USA. The tasting was concluded with one of the most revered wines made by them to date … Olerasay No 1, a straw wine made in the traditional solera method by a fractional blending of their vintage straw wines, from 2008 through to 2014.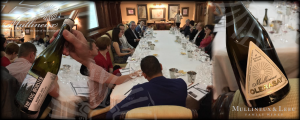 It was noted by Chris & Andrea that all the vintages tasted during the evening were the first vintages of that specific wine, which made it all the more special for them. The tasting was followed by a dinner, specially prepared by Chantel and paired with more of their older wines, including their Kloof Street label, usually only available to their wine club members. It was without a doubt one of the most memorable wine tasting events ever hosted at Mosaic!
Saturday morning saw Chris & Andrea graciously joining us again for a morning tasting of their single terroir Chenin Blanc wines, grown in the granite, quartz and schist soils of the Swartland. Again, we started the tasting with another exceptional wine, made specially by Andrea for the CWG Auction, from another rare variety – the Clairette Blanche. We also showcased the Chenin Blanc, a so-called "orange wine", made by Andrea for their Fog Monster project in California. Lastly, we concluded this tasting with the latest 2016 vintage of their straw wine.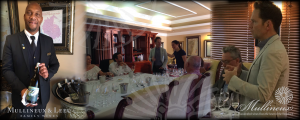 The tasting was followed by lunch, where Chantel and Germain spoiled guests with another stellar menu paired with more of the award-winning wines from Mullineux, as well as their new label in Franschhoek, called Leeu Passant, which was launched earlier this year.
It was overall a hugely successful weekend with the "rock stars of the South African wine industry", Chris & Andrea Mullineux. Not only are they two of the most gracious and humble people we have the privilege of calling our friends, but they are also family orientated, being parents to two small children - a dynamic and driven winemaking team that can rightly be proud of their many achievements, including the ultimate award bestowed on Andrea by Wine Enthusiast in 2016 as their Winemaker of the Year! It was truly an honor to host them at Mosaic and we look forward to repeating this experience in another few years to see how their wines have evolved with age.
Santé!