Me and Moses made most of our recent trip to Cape Town and in between working alongside Chef Chantel and Chef Gregory for the Chefs Collaboration dinner event, made time to visit one of our old time favorite wine farms, Alvi's Drift.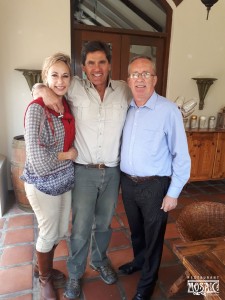 One of Mosaic's oldest and dearest friends, Junel Vermeulen now calls Alvi's Drift Estate in Worcester her new home and we could not resist the opportunity to catch up with an old friend. It was an experience not to forget, with wonderful conversation, heavenly wines and brunch made from ingredients produced solely on the farm.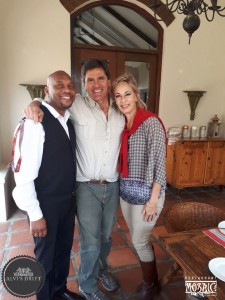 Alvi Van Der Merwe, the owner of the estate, is the son of Bertie Van Der Merwe and is in charge of the wine section, where creativity on quality is exceptional. He shared with us that there will be a new range of wines coming in the near future.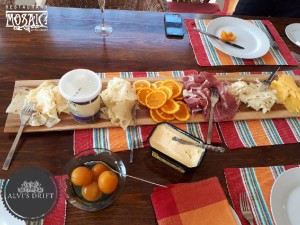 Alvi's Drift currently has 420 ha of vineyards, but they also have other sources of produce, including 2 000 cows, 1 000 pigs and 200 000 chicken.
They also have their own cheese factory where the milk is transformed into cream, butter, and several different cheeses, sold under the Alfalfa label. Furthermore, they also have their own butchery on the farm to process the pigs, chicken and cows.
The cellar has a capacity of 7 million liters of wine and the production includes anything from bulk wines to some of the best wines made in South Africa. We tasted several wines, but commented on the following wines as being truly extraordinary:
Drift Fusion is a blend of Cabernet Sauvignon, Pinotage, Shiraz and Petit Verdot. A beautiful balance of fruit, full-bodied with a long aftertaste. Score 93/100
The Chenin Blanc Cuvèe Albertus Viljoen is one of the best Chenin Blancs produced in South Africa in my humble opinion. Score 92/100
The Muscat de Frontignan is a winner! Mosaic was the first establishment to buy this incredible dessert wine and proud of that fact. Score 94/100
Tastings are available by appointment only and conducted by Junel Vermeulen.
Santè!