"The magic of Champagne belongs to the climate, not the soil" says Louis Roederer chef de cave Jean-Baptiste Lecaillon. "The climate is stronger, and the wines tell the story of the rain and the sun."
With the effects of climate change this year even more evident, the tumultuous climate of Champagne makes the stamp of the season more dramatic than in any other wine region, so an insight into the personality of every harvest is more pertinent in our search for great champagne now more than ever.
A champagne vintage is the year in which the grapes were harvested. A champagne's vintage can greatly affect the taste and quality, primarily because of the weather that affects the vines throughout the growing season.
In the Northern Hemisphere and Europe, the grape growing season is from about April to October. Non-vintage champagne is made by blending multiple years together, and are known for their consistent, house style and are usually a good value. For example, a common non-vintage champagne is Champagne labelled simply as "N.V."
You may ask, if vintage just reflects a region's weather patterns in a given year, then what makes a vintage good or bad? Essentially, the defining feature of a vintage is sunshine. Sunny days give grapes the best chance of reaching full maturity and optimum ripeness levels. If a region receives too much rain and clouds, grapes do not fully ripen, may be more prone to rot and disease, and tend to deliver lower quality grapes. Conversely, if the region is too hot (too many days above 92 ºF / 33 ºC) and sunny, then grapes become raisinated before they fully ripen and the resulting wines may be flabby or have bitter tannins.
You can figure out if a vintage was good or bad by identifying key features about the weather in a vintage.


Spring: Spring frosts are common in semi-continental climates (like Champagne) and destroy crops before they even flower. Hail storms can break off flowers and buds, reducing the vintage's size sometimes by 100%. These features do not necessarily reduce quality unless they greatly reduce the length of the growing season.


Summer: Wet weather during the summer fungal diseases which will ruin grapes. Conversely, drought and exceptionally hot weather causes the vines to pause their growth until cooler weather returns. These features can reduce quality in the grapes.


Fall: Rain at harvest swells grapes, causing them to lose concentration or rot. Cold weather slows grapes from ripening. Harvest time foul weather can greatly reduce the quality of a vintage.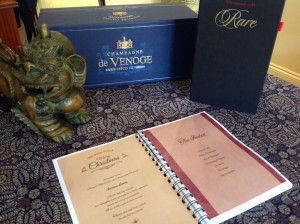 So, when you as a collector buy wines, vintage matters. Good vintages produce grapes that are well-ripened, carry considerable tannin and acidity (both function as a savvy vinous preservative), with the best opportunities to get better with age and, in this case, specific vintage years hold some serious weight.
To demonstrate the above, we tasted the following champagnes:
Welcome Drink
Pierre Gimonnet et Fils Cuvée Spécial Club 2008
This is a wine which embodies their old vines from Grand Cru Cramant and Chouilly and their 1er Cru Cuis vineyard. The result in 2008 is something very special and quite possibly their best achievement to date.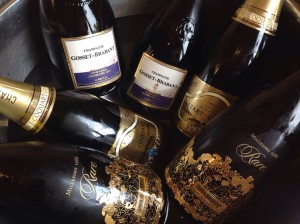 Selection for Tasting:
2008

Moussé Fils Cuvée Spécial Club 2008
This is the first 100% Pinot Meunier champagne to be admitted into the club Tresors de Champagne Special Club comes from one village, from one plot and from one grape variety.
2002
Egly-Ouriet Grand Cru Brut Millésimé (1500ml) 2002
Aged for whopping 108 months in the cellar before release and bottled without fining and filtration – the palate is luxurious and enticingly rich.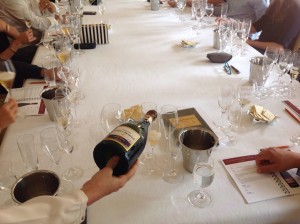 1996
Gosset-Brabant Cuvée Gabriel Grand Cru 1996
A champagne with a mineral clarity that provides a serious underpinning for bold, luminous flavours, good structure and salinity coming through.
1995
Vazart-Coquart Cuvée Grand Bouquet Blanc de Blancs 1995
The "Grand Bouquet"is made exclusively from Chardonnay grapes from the Chouilly valley, the Grand Cru vineyards which are situated on the famous Cote des Blancs slopes and is aged for at least 36 months on the lees in the bottle.
1990
De Venoge Grand Vin des Princes 1990
This particular cuvee was conceived for the Princes of Orange, and was only available to the public from 1958 onwards – sophisticated, this intriguing champagne shows plenty of body and a handsome mature character.
1988
Piper-Heidsieck Cuvée Rare Millésime 1988
This is a powerful yet elegant and highly stylish champagne. The velvety texture of cocoa beans and mocha gives way to powerful notes of dried fruit and hazelnuts.
The matinée tasting was concluded with a splendid lunch, prepared by Chef Chantel where the guests were entertained with some of the new dishes she is experimenting with for the Autumn 2018-menu.
With only about 10% of the total production of the Champagne region made into vintage champagnes, this was truly a rare opportunity to taste, not only some of the best champagnes produced, but also the best vintages for the past 30 years.
Sante
The Cellar Team