I know that people romanticize the job of the Sommelier.
They look so smart in their evening suits, strutting their stuff, sharing their latest exploits in Burgundy, or Champagne with the, oh so important guests.
Drinking wine all the time...
And you will be right. And I am not going to give you any satisfaction in bursting your rainbow-tinged bubble by telling you about all the hard work behind the scenes. Oh no – today I am going to add to your despair by sharing with you another one of the perks of their job. Because once in a while you get to open a bottle and taste a wine that you can only describe by using so many superlatives that it will sound as if it was made by and for the gods themselves. But it happens.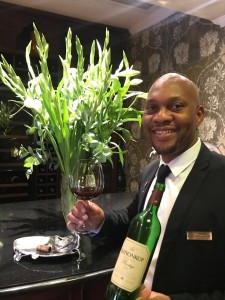 And then the world stops turning, and you stop breathing. And you pause and stand in wonder that something so perfect can be made. And that is what happened last night when we opened the Kanonkop Pinotage 1993 - a gift from the Sommelier Team to one of our guests and ardent supporter of the estate, who were celebrating the end of a successful year with a few of his friends at Restaurant Mosaic.The cork was still firm and intact with no ullage in the bottle. The colour deep and dark with a brick red rim, clean and clear to the bottom of the first glass poured.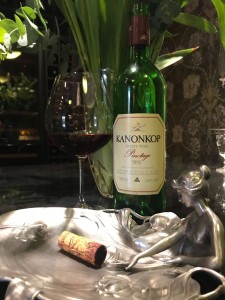 Delicate floral notes emanated from the glass and the first whiff was surprisingly shy, but it did not take long for the wine to start responding to the air and loads of red berries poured forth – sweet and salivatingly profound. When you taste these great wines, you cannot but close your eyes – whether it be in reverence, or (like your first kiss) you are just lost to the world, this is what happened when we took our first tentative sip. Big, bold, full-bodied and still perfectly intact without any loss of structure and persistence – it shines…and shines… and just keep on giving as if there was no end – the aftertaste surprisingly clean and bright. A song on our palates, a symphony of perfection.
A wine of wonders and an ode to the pedigree of the Kanonkop Estate, its terroir and master winemaker – congratulations Johann and Beyers – you can rest assured that from a humble, unmemorable, average vintage, a stellar wine was born.
The Cellar Master
21 December 2017