Weingut Christmann Ruppertsberg Riesling Trocken 2012
The Mosaic Team once again assembled in full force this past Tuesday to taste a few wines, selected by various members of our Sommelier Team. The Mosaic philosophy is not only to educate the Mosaic Team members in the various styles of wines but also to continuously check if the evolution of the wines is taking place according to previous evaluations, and with this philosophy in mind, the aim of the tasting was to determine, after years of resting peacefully in the cellar, if these wines were now finally ready to be served to our guests.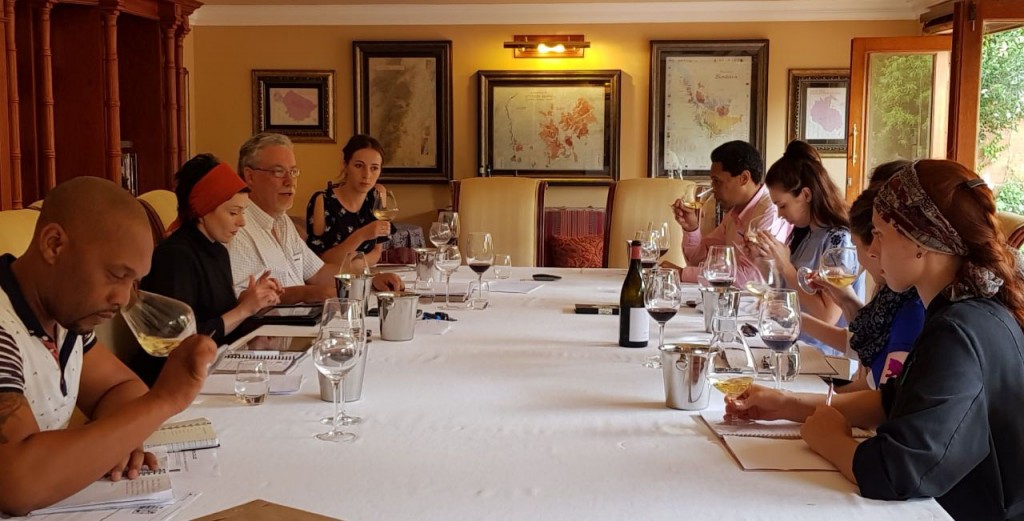 Under the leadership of our Cellar Master and with a brand-new Sommelier Team assisting our very own Moses Magwaza in the restaurant, consisting of Taryn Nortjé and Eric Botha, as well as our Student Sommelier, Chantelle de Vries, we had a truly diverse group and it was a revelation to be able to share our thoughts and impressions on the wines amongst the team members.
Despite different backgrounds, we were thrilled that the entire team scored our winning wine of the day exactly the same. This bodes well for the future of our Mosaic cellar team and we look forward to many more tastings to come.
Our winning wine of the day came from Weingut Christmann, located in the Pfalz region of Germany and one of the wine estates from which Restaurant Mosaic imports our wines directly – naturally we are very proud to be the only establishment in the country to stock a limited quantity of these wonderful wines.
Tasting Notes: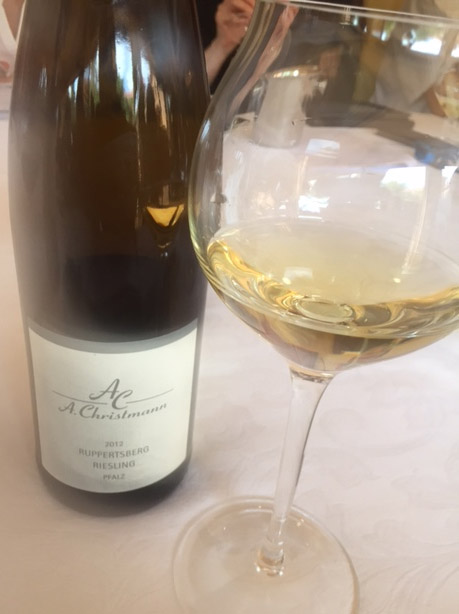 Glass: Our specially imported Riesling glasses designed by Sommelier, Serge Dubs, from L'Auberge de l'Ill, Illhauesern, Alsace.
Colour: Light yellow, leaning more towards a golden hay colour with light green sparkles. The wine is clear and bright.
Nose: The nose is typical of a German Riesling with a powerful and aromatic attack on the senses with aromas of honey, orange blossom, apricots, bergamot and clementine, accompanied by petroleum notes, characteristic of a well-made Riesling.
Palate: The entry on the palate is very elegant - sweet and pleasant, leading to a full mid-palate that is simultaneously lean and soft with a vivacious mineral acidity and a long and lingering aftertaste.
Aging Potential: Already very palatable, but will keep for several more years if properly cellared.
Cuisine: We were all in agreement that this wine will be perfect as an apéritif – our guests can look forward to having a taste of this lovely German Riesling from this weekend when it will be available as one of the choices to welcome you at Mosaic at The Orient!
Notes: The grapes for this wine is almost exclusively from the Linsenbusch, one of the most renowned Riesling vineyards in the Palatinate. Alcohol is 12,5%.
Score: 91/100
Santé!
The Sommelier Team