As is our tradition, the Mosaic team assembled on the last Tuesday before Christmas to taste a few wines, selected by our Cellar Master and what magical wines it was! This was our last tasting of the year and we decided to focus on three potential wines to be included in Chantel's new menu for the autumn and winter.
The aim of these weekly tastings is not only to educate the Mosaic team in the various styles of wines and cultivars but also to evaluate the evolution of the wines that have been maturing in deep storage, waiting for the right time to be served. We were quite excited when the lineup for the tasting was revealed … from a Hungarian Furmint from the master winemaker of Tokaji, to an old vine Chenin Blanc from the Cape and a Southern Rhône style blend of which just 107 bottles were produced - we were definitely in for a treat!

István Szepsy - Szepsy Furmint 2011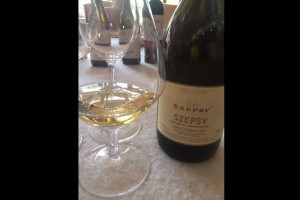 The first wine poured was the Szepsy Furmint 2011 from Hungarian superstar, István Szepsy. István is one of the very first producers in Tokaji to work with site specific, single-terroir vineyards. History suggests that Szepsy should know what he's doing when it comes to crafting wine in Tokaji: his family has been making wine in the region since (at least) the late 16th century. István Szepsy senior managed to hide a small independent vineyard parcel from the ruling Communists until the 1970's, so it's not difficult to imagine how István junior got his independent streak. During the socialist regime, he planted about four hectares of his own vineyards and the fruit for this wine was taken from the very best of these vineyards. The wine is made in a slightly oxidative style as could be seen by the striking golden yellow colour, After the first few moments in the glass, it opens up to delicious notes of white stone fruits, citrus and a lovely minerality with hints of lanolin. But it was after two hours in the glass that the nose evolved with additional notes of honey and old spice. The palate is full-bodied and smooth, with notes of vanilla, green melon, candy and spice, with a lingering pleasant finish. Elegance abounds here, with the wine just starting to soften up, and relax a bit, but it will be able to mature for at least a further five years in Mosaic's deep cellars. We recommend to Chef Chantel that this wine be paired with shellfish, or if she wants to replace her traditional fish on the menu, with lobster, or even braised pork brushed with honey and served with baked apples.
Score 92/100

Kaapzicht - The 1947 Chenin Blanc 2013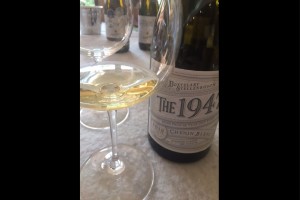 Our second wine was a Chenin Blanc, made by Danie Steytler from Kaapzicht, from fruit sourced from reputably the second oldest Chenin Blanc vineyard in South Africa, planted in 1947 by his great grandfather – hence the name "The 1947". Chenin Blanc has long been known as the chameleon of grapes as it is such a versatile variety, used in the making of brandy and various styles of wines, from sparkling to dry and even sweet. We were very excited to finally have the opportunity to taste this vintage for the first time, as it was kept hidden in deep storage since we bought it directly from Danie, way back in 2013! Showing a beautiful and intense yellow colour in the glass, we feel that this is a wine that needs to be decanted at least two hours before being served, as it takes a while to develop and open up on the nose. But when it does, oh my, what beautiful nuances are discovered, with notes of citrus, especially lime, red apples, yellow peaches and ripe melon with a Riesling-like hint of lanolin. There is a well-balanced acidity on the palate, making this a smooth, effortless wine with soft, palatable flavours that is well-rounded and mouth-filling – a true food-friendly wine. Flavours hinting of fruit cocktail and caramelized brown sugar lingers on the finish. Chantel was excited with visions of pairing this wine with West Coast Sole from Namibia (will check the Sassi list first), served with a light citrus sauce or alternatively with a delightful buttery, citrus infused Beurre blanc sauce.
Score 93/100

Albert Ahrens - Black No 1 2008 & 2009 (Southern Rhône-style Blend)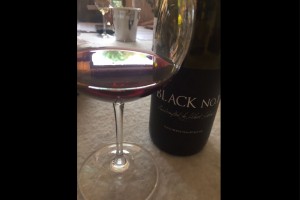 The last wine tasted, and the only red for the day, was an 8 year old Southern Rhône-style blend, made by Albert Ahrens, from a blend of four of the major cultivars found and used in blending in the famous Châteauneuf-du-Pape region - Syrah, Grenache, Carignan and Mourvédre. The colour of this blend is a dark garnet red with a lighter rim, indicating that the wine is still very young and fresh for its age. This is not strange, when you consider that the typical Châteauneuf-du-Pape wines should be kept for at least eight to ten years before you start opening the first bottles from your collection. Notes of dark berries, predominantly blackcurrant and mulberries, emanates from the glass at first, but let it sit for a while and secondary aromas of spice, sweet black pepper, an attractive smokiness and antique leather become more pronounced. The palate is a reflection of the nose, with delicious flavours of sweet mulberry, blackberries, black pepper, spice and a subtle smokiness on the finish. Full-bodied, yet incredibly smooth with soft tannins that is very pleasing on the palate. The whole Cellar Team agreed that this should be the perfect wine for a medium-rare, 36-days matured, prime cut steak with a creamy black pepper sauce or even something exotic such as the zebra that was on one of the previous menus.
Score 90/100

What a wonderful way to end this amazing year, sitting around a table with our award-winning Mosaic team, tasting these spine-tingling wines. We look forward to many more of these special times in 2018!
Santé!

The Cellar Master