Lismore: Wines with absolute quality, singularity and intellectual appeal…
The peaceful little hamlet of Greyton lies surrounded by the Riviersonderend (river without end) mountains and nestled in the foothills, a short distance out of town, you will find Lismore, the domain of Samantha O'Keefe.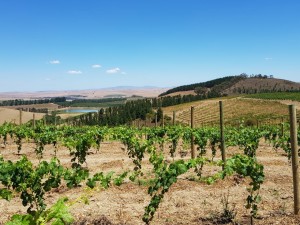 Earlier this month, we visited her vineyards and farm on our way from Swellendam to Elgin and were privileged to be received by this wonder woman of wine herself, proudly showing us her aging cellar and talking us through the 2017 vintage barrel samples maturing at present.
We started with five different barrel samples of the 2017 vintage Syrah, made in different styles. The first from 40% whole bunch fermentation, with the grapes coming from vineyards grown on iron soil in Elgin and presently in new barrel, with a pronounced spicy, peppery aroma, and smoky herbaceous character. This was followed by a very elegant and well-rounded example maturing in old barrels, with sweet red stone fruit and floral aromas ending with an attractive sweet spiciness.
We then tasted three examples of her own Greyton grapes from separate vineyard blocks, the first one in old oak barrels with lots of fruity and floral notes – stone fruit, potpourri and spice, we all agree that this will add a lot of elegance to the final blend. The next tasting was from first fill Grand Cru barrels - it was bold, very dark and smoky with star anise, cinnamon spice and rose petals, while the last example kept in medium toasted barrels was our favourite, with hints of cloves on the first encounter.
To freshen our palates before a walk in the vineyards, we tasted the 2017 Chardonnay, matured in oak and now back in tank before bottling. Samantha will most probably bottle this again as a Chardonnay Reserve, but time will tell. This is a bold, full bodied wine, complex and aromatic with very pleasing vanilla notes and a sweet entry on the palate. Destined to evolve still further as it matures, it will be filled with big and bold fruit aromas, subtly oaked and hugely pleasant.
A separate tank of 2017 unoaked Chardonnay that was kept in stainless steel was one of those wines that you do not want to stop drinking, with a fragrantly floral nose with notes of a melange of white fruits, predominantly pears.
On the palate it is a complex, multi layered, intellectual wine that dance on your tongue with a long and lingering aftertaste. As Mari commented afterwards – "Baie, baie lekker!"
After a refreshing walk in Samantha's new vineyards (we will not divulge this new cultivar which will soon be added to her repertoire), we retire to the 'stoep' of Samantha's rambling "House on the Hill". For this tasting she selected Gabriel glasses, designed by renowned Swiss wine critic René Gabriel.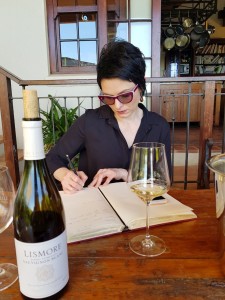 Sauvignon Blanc Barrel Fermented 2016
Colour: Crisp, clear, pale gold colour.
Nose: Very tropical on the nose with lots of white flowers, passionfruit, gooseberries, green apple.
Palate: Initially fresh, but the wine mellows in the glass and developed a beautiful honeyed tone.
Notes: The vintage was bottled 9 months after harvest.
Score: 90/100
Sauvignon Blanc Barrel Fermented 2017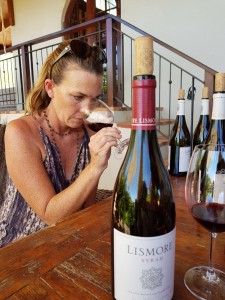 Colour: Clear, pale gold with sunshine specs.
Nose: Aromas of green apple skin, caramel, very light tropical notes,
Palate: Sweet entry on palate with a long and lingering, complex aftertaste
Notes: Part of the blend was matured in her concrete egg and according to Samantha, the wine in the egg add a balance to the aroma and complexity of the wine.
Score: 91/100
Chardonnay 2015
Colour: Light straw colour.
Nose: Intense citrus notes of range peel and grapefruit
Palate: Multi layered with pleasant notes of vanilla and honey with a citrus crispness on the palate and lingering pleasant aftertaste.
Notes: The wine was matured in second fill - neutral oak and the team was unanimous that the Chardonnay can mature for at least 5 more years.
Score: 91/100
Age of Grace Viognier 2017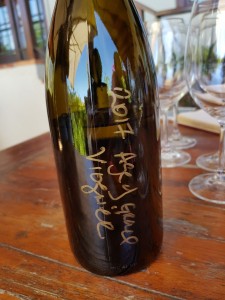 Colour: Light golden-yellow
Nose: Very floral - gardenia, orange blossoms and honeysuckle.
Palate: Juicy peach, litchi, ripe pears - creamy and pleasantly sensually sweet on the palate with a long and lingering finish. A wine to keep in your cellar - it will become better and better.
Notes: Made from Elgin berries grown on rose quartz and shale soil.
Score: 91/100
Pinot Noir 2017
Colour: Lightly filtered - light red in colour.
Nose: Opulent red fruit with hints of sweet strawberries, candy floss and a sweet spiciness and an almost buttery note.
Palate: Boldly savoury and herbaceous character with a bone dry finish of rosemary and tarragon used in savoury lamb stews. A serious, weighty wine – would love to taste this again two/three years from now to see how it settled down.
Notes: A surprise inclusion in the tasting – still unlabelled and freshly bottled, rom Elgin grapes - 30% whole cluster pressing.
Syrah 2016
Colour: Rich dark velvety red colour.
Nose: Smells like baklava, and sweet cinnamon, with Mari saying it reminds her of spicy roasted pumpkin. We again picked up the same smoky notes that we also experienced in the barrel tastings.
Palate: A serious wine with red fruits dominating the palate and again Samantha's trademark peppery notes at the end. Soft and elegant on the palate with green olive aftertaste.
Notes: From 50 % Elgin and 50% Greyton grapes, with 40% whole bunch fermentation.
Score: 93/100
Chardonnay Reserve 2016
Colour: Clear light yellow.
Nose: profusion of citrus notes, especially lime with soft vanilla in the background rounded of with distinct mineral elements.
Palate: Pure and lean, with an incredible concentration of fruit -
a bold wine that dances on your palate - a wine to keep and proudly show to guests how Chardonnays should be made in South Africa. If you can find them - buy them.
Notes: Matured in 500 litre, 40% new oak for 11 months.
Score: 94/100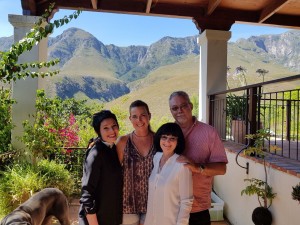 Next time, we will camp out on Samantha's 'stoep', stay over, and drink too much wine and never leave…
Santé
The Cellar Master