Sharing in the Magic of Burgundy with Jean-Marie Fourrier
Restaurant Mosaic started 2018's wine tasting events, by hosting Mr Jean-Marie Fourrier, - the man behind one of the most revered and respected wine estates in Burgundy, Domaine Fourrier, and his wife, Vicky, on Wednesday, 31 January 2018.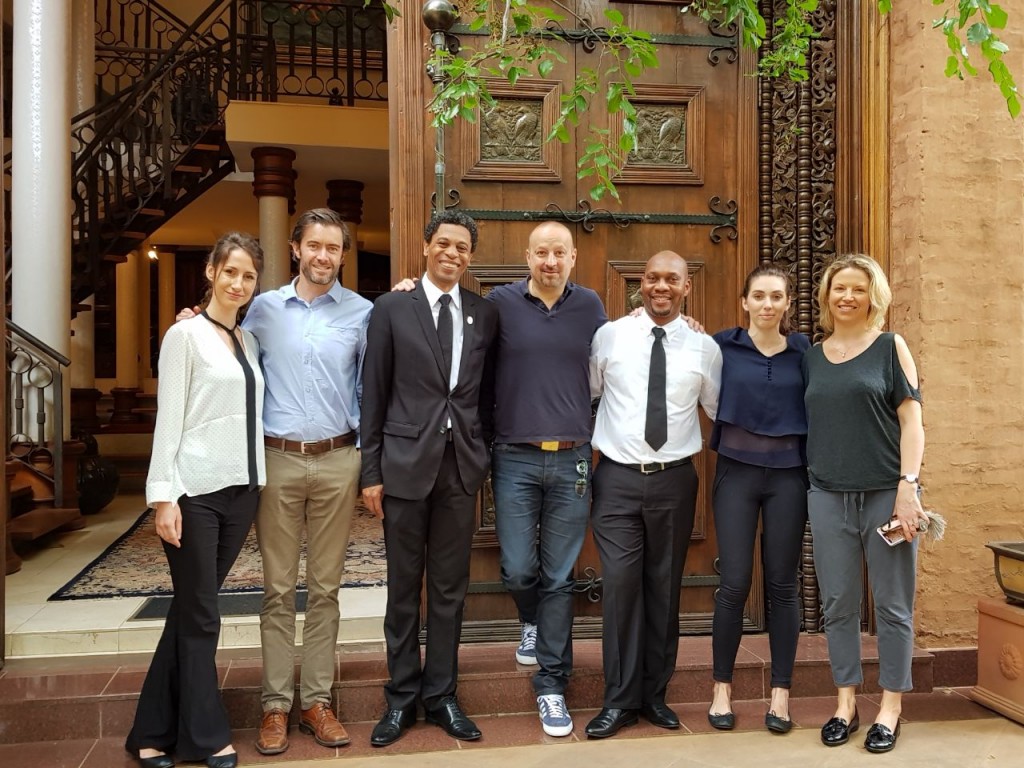 Domaine Fourrier has a long history in Burgundy extending over 5 generations. Founded by Fernand Pernot during the 1930's and 1940's, unmarried and childless, he bequeathed the estate to his nephew, Jean-Claude Fourrier in 1969.
We were thrilled to host his son, Jean-Marie, an unassuming man, who burst onto the Burgundian scene at a time when the estate was all but forgotten, and with extreme determination, patience and upholding the traditions and beliefs of his father and uncle, has single-handedly resurrected the Domaine to be one of the most respected and revered in Burgundy.
Domaine Fourrier is one of only five producers in Burgundy that owns part of the world-renowned Premier Cru vineyard, Clos St. Jacques, planted in 1910, which is considered by many to be of Grand Cru quality. The Domaine also owns 9 ha of vineyards spread amongst the communes of Gevrey-Chambertin, Morey-St. Denis, Chambolle-Musigny and Vougeot. As is the tradition at Domaine Fourrier, wines made from any vines less than 30 years old are sold to négociants rather than being bottled.
We had an exciting line-up of wines from the 2011 vintage during our Pre-Dinner tasting, showcasing the intricate differences in terroir. The first flight consisted of his village wine, the Gevrey-Chambertin 'Vieille Vigne', followed by the very first vintage from the only vineyard he buys grapes from, Chambolle-Musigny 'Aux Échanges'. Jean-Marie explained that he made a small "mistake" with this Chambolle-Musigny, resulting in a much darker, brooding wine than his normal style.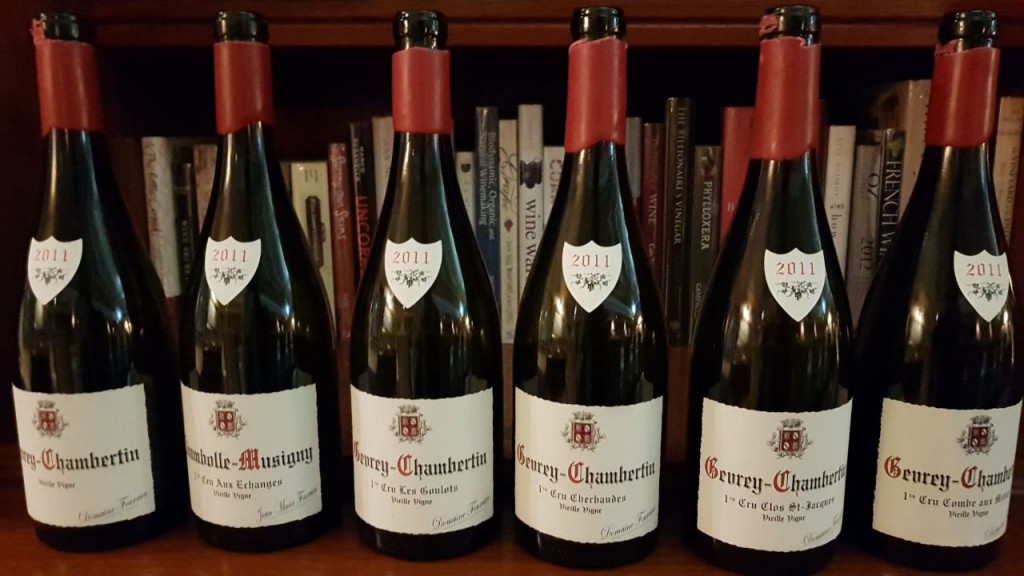 Gevrey-Chambertin Vieille Vigne 2011
Captivating aromas of cherry, raspberry, blueberry and minerals, lifted by a floral top note. At once juicy and filled in, this nicely balanced village wine finishes with noteworthy length. 90/100
Chambolle-Musigny Aux Échanges 2011
Soft spicy nose with subtle earth scents. The earth character continues onto the round yet quite powerful middleweight, with flavours that possess good detail and moderately good depth and length in the context of the appellation. Slightly darker in colour, Jean-Marie confessed that he "tried too much" with this wine. 90/100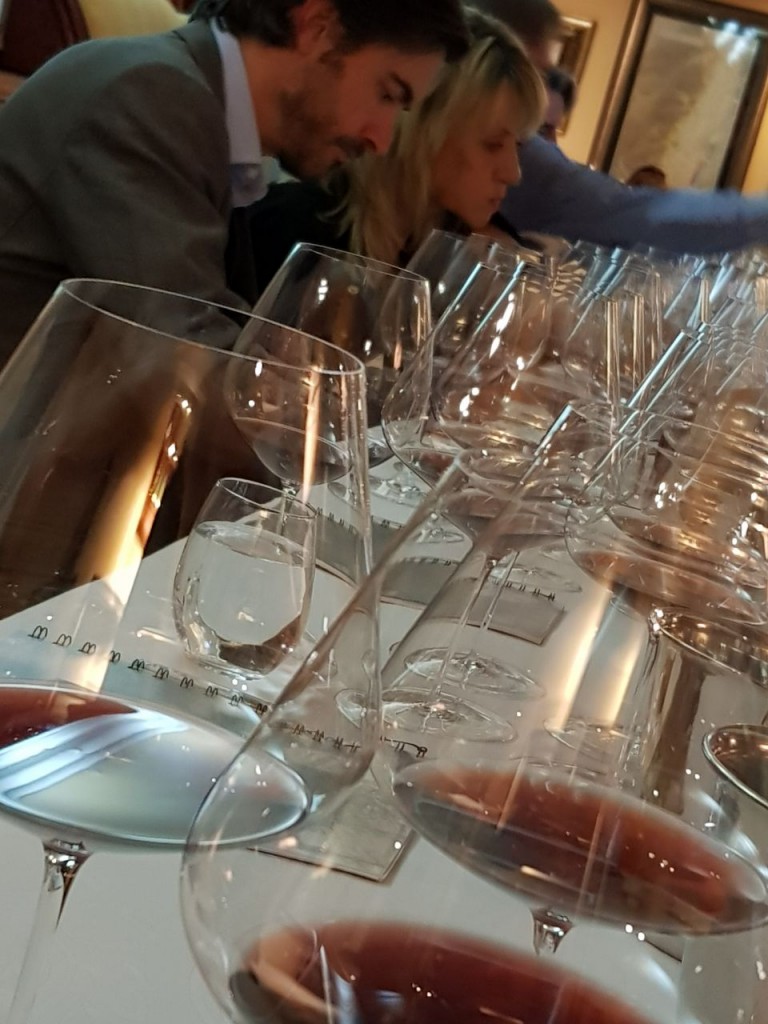 The second flight was a comparison of four of the different Premier Cru vineyards owned by Domaine Fourrier in Gevrey-Chambertin, 'Combes Aux Moines', 'Les Goulots', 'Les Cherbaudes' and 'Clos St. Jacques'. Guests tasted the different vineyards at their own leisurely pace while the winemaker entertained us with little anecdotes about how his father indignantly and famously kicked wine critic Robert Parker out of his cellar when told that he had to use 100% new oak on his wines to raise their quality. His patience and determination, in spite of resistance from the critics eventually paid off, keeping true to his father's beliefs that the scoring system was an imperfect one and despite increased criticism, Domaine Fourier stayed true to their core winemaking philosophy that "wines are made with grapes, not with barrels". The wines made by Domaine Fourrier are famous for their elegance and the Fourrier family's winemaking tradition has finally been validated as is evident in their ethereally fruity and earthy wines, which are never treated to more than 20% new oak.
Gevrey-Chambertin 'Combes Aux Moines' 2011
Lovely scents of raspberry, mocha, smoke and earth. Then sappy, savoury and complex on the palate, with terrific cut and palate-staining persistence to its red fruit and saline mineral flavours. The wine's enticing sweetness is perfectly buffered by strong acidity. Really builds on the aftertaste. 91/100
Gevrey-Chambertin 'Les Goulots' 2011
Exceptionally fresh and expressive with red berry fruit, wet stone and a hint of underbrush. There is an excellent refinement to the moderate firm tannic spine that gives shape to the intense and sappy medium-bodied flavours that exude a natural sweetness on the agreeably dry and clean finish. 92/100
Gevrey-Chambertin 'Les Cherbaudes' 2011
Fresh and layered nose of both red and dark fruits laced with plenty of pungent earthy notes, leather, smoke, humus and underbrush. The palate is complex with a refined structure that will keep well when cellared. Beautifully balanced with a lingering aftertaste. 93/100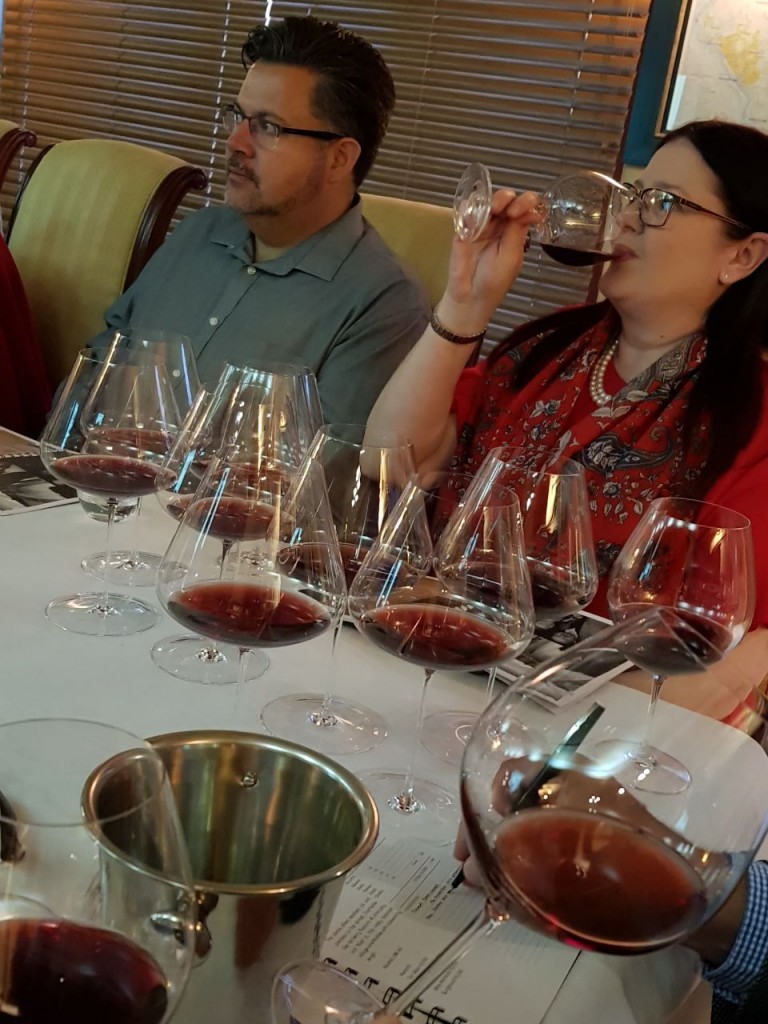 Gevrey-Chambertin 'Clos St. Jacques' 2011
Enticing spicy nose of herbs, potpourri and a spectrum of red berry fruits. Simply beautiful on the nose. There are a striking vibrancy and intensity to the firmly mineral-driven medium weight flavours that possess gorgeous depth on the perfectly balanced and linear finish that delivers outstanding length. A true testament to what Pinot Noir can become! 94/100
We had a wonderful time tasting these wines and will remember this evening for a long time to come! We thank Jean-Marie for taking the time to visit us, sharing his wines and imparting his wisdom and knowledge so freely.
Santé
The Cellar Team