Elgin Cool...
You only need to spend a couple of hours with Koen Roose to realize that he is a unique individual. Spend a few days with him and you realize just how unique. You discover unbridled commitment, exemplary work ethic, and a driving passion to be true to the land, to his vineyards and his wines.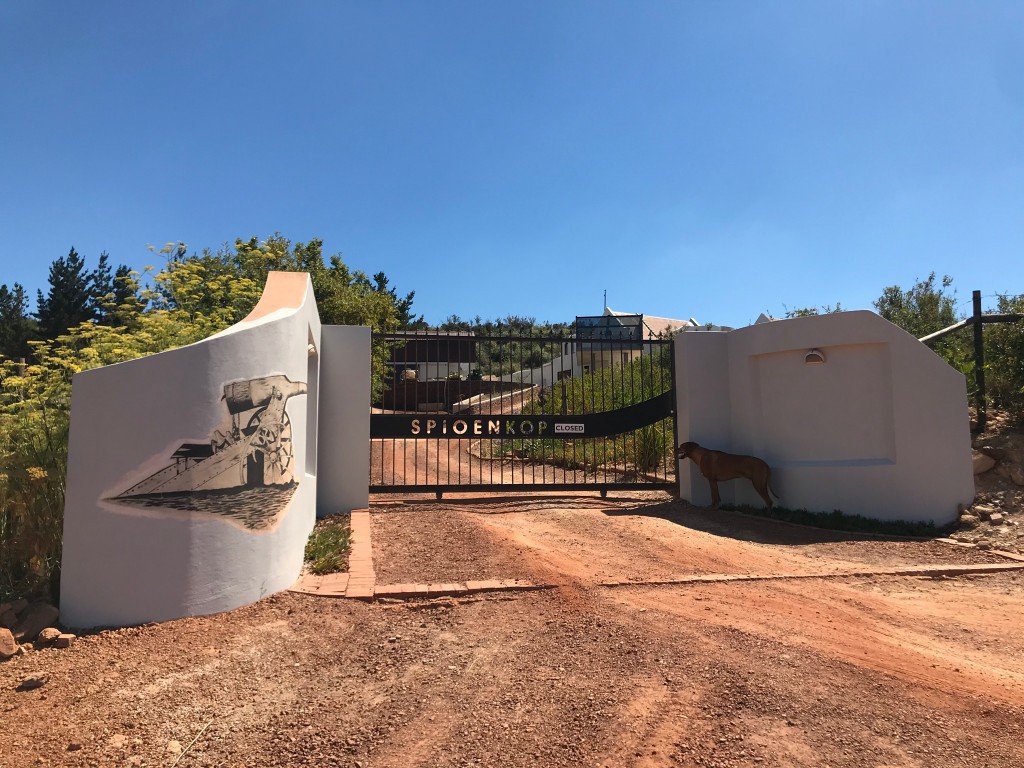 He changes your perception that wine is not just a commodity, but something far more personal, and this was exactly what we experienced when we enjoyed his company and the beautiful scenery of Spioenkop over two days recently.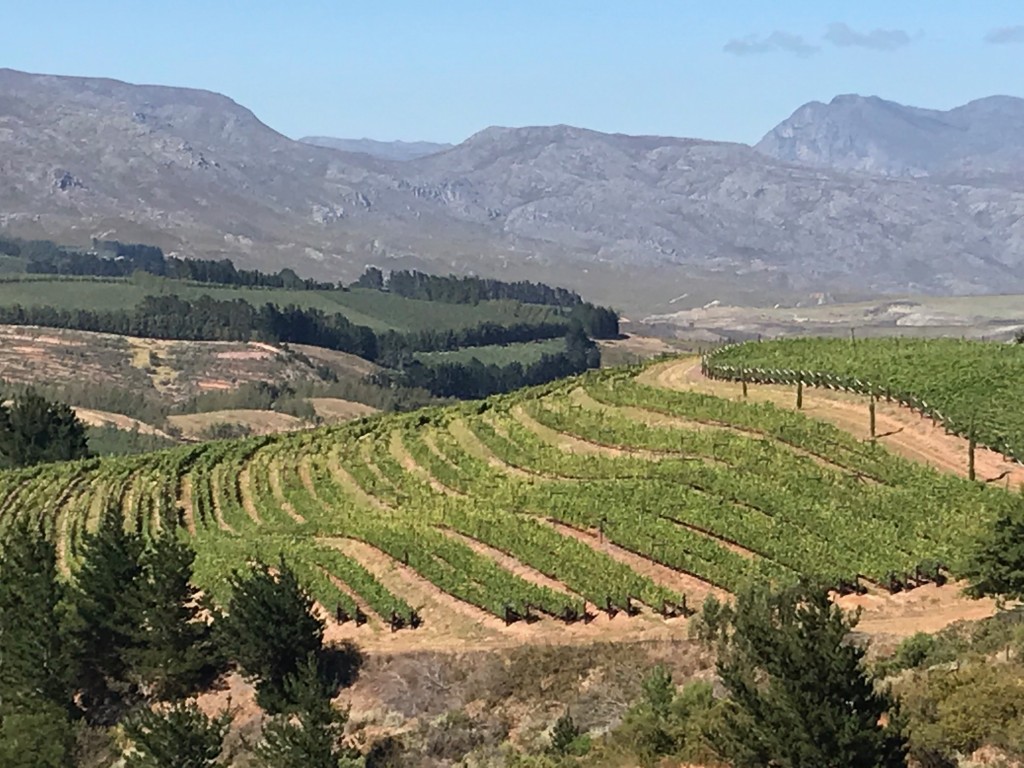 We tasted several of his wines presently on the market during our first evening on the farm - an evening filled with jovial celebration of life and the beauty with which we can fill our hearts.
1) Sauvignon Blanc 2012
Colour: Bright and clear with fresh green tinges - not showing its age at all.
Nose: The cool climate of Elgin shows through with notes of green pepper and green grass, with a prominent yeasty element that jumps out of the glass. Mari detected litchi flavours, having been the designated "feeder of the family" in the car all the way from Swellendam to Elgin earlier during the day, peeling litchis for both me and Chantel. Fresh and pure with no indication of age on the five-year-old Sauvignon Blanc.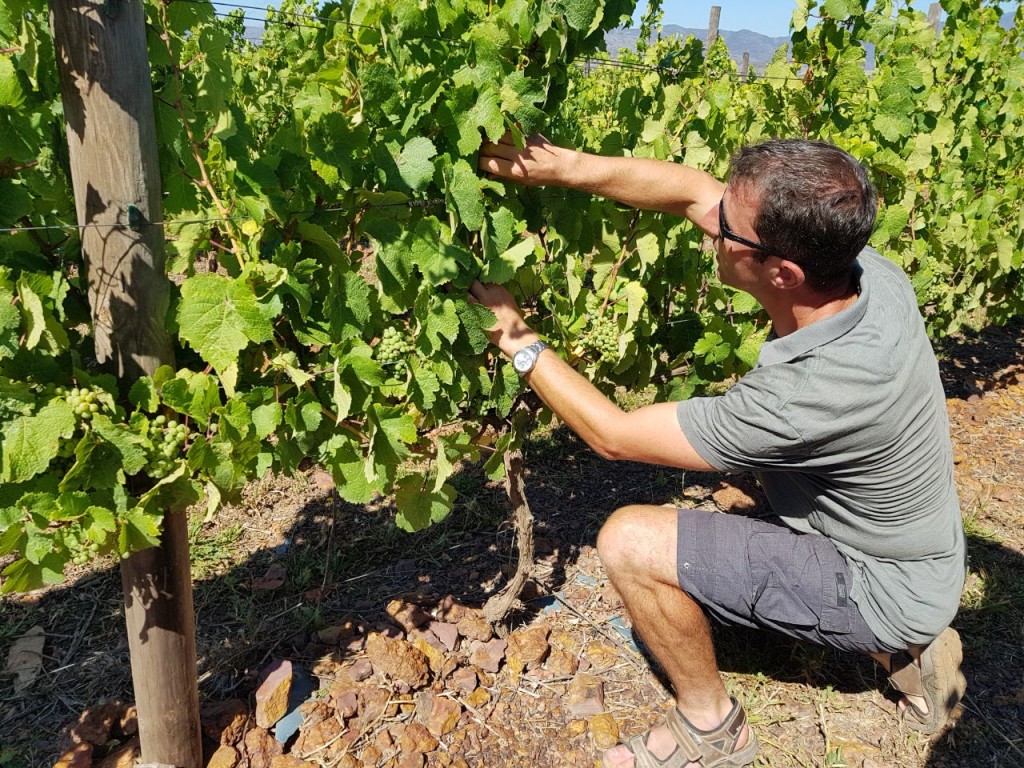 Full bodied and multi-layered with lots to give if you have the patience of leaving some in the glass to develop over time. Cobus went nostalgic and started talking about his youth (now long gone) and his grandmother's grape pergola where they enjoyed many a Sunday afternoon eating "glipperkies".
Palate: Clean entry of lemon and lime with the green pepper notes carried over from the nose. Minerally, in the form of a flinty spark from striking two rocks against each other, and saline with enough acidity present to carry it into the future. A singular and more intellectual wine to be drunk with real friends and to be enjoyed whilst discussing philosophy, the latest book read and a beautiful piece of art that moved you recently, but not for quaffing around the pool.
Maturation: A difficult one, with the votes divided between drinking within the next year or two, and leaving some in the cellar to see how secondary flavours may develop, although, after another glass or two, we decided that the last bottles should be lifted from the cellar to be enjoyed in its present form.
2) Sauvignon Blanc 2014
According to Koen, this was a difficult harvest with too much rain with one block of Sauvignon Blanc, which made up 30% of his harvest lost due to the excessive rain.
Colour: We tasted this wine directly after the 2012-vintage and the wine was light and clear, with green tinges throughout, showing the typical Spioenkop Sauvignon Blanc character.
Nose: Fewer lime notes than the 2012, with more flowery aromas than citrus. Still shy to open up, but with more tropical fruit than the grassy green-pepper of the 2012. After a while, fragrances of orange blossoms on a warm summer evening at dusk in the last minutes of the day. Leave it in the glass and the nose deepens with honeyed, ripe fruit - very pleasing and forcing your hand to start tasting and not delay any further.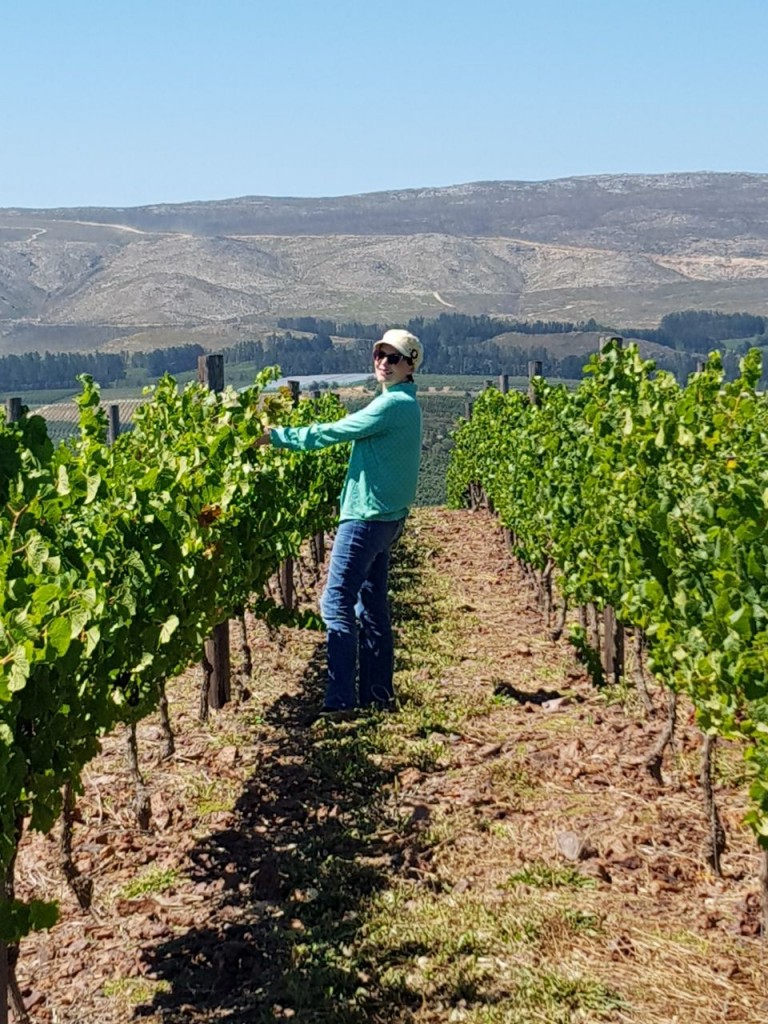 Palate: Clean, fresh and riper, indicating more fruitiness than herbaceous notes, with white European asparagus and bracing acidity. A pleasant wine that will be enjoyed by many, pouring more than one glass at a time. Less minerally than the 2012, which Koen agrees with, but pleasantly tropical with flower and fruitiness through all the stages.
Maturation: A wine with legs that will take it far - it will be a pity if it loses its flowery/fruity notes, but one that all the members around the table agree should benefit by developing in one of the darker corners of the cellar. We all suspect that the honeyed tropical notes will be enhanced and the shy minerality will come to the fore. But the first challenge to face will be to have enough patience to leave some bottles to mature.
Score: 89/100
3) Chenin Blanc 2015
Colour: Light yellow in colour, reminding us of the freshly cut hay of the Highveld just before the winter. Fruit however not prominent and pallet average, not complex and long enough.
Nose: A distinct, complex nose of yellow apples, peach, citrus, subtle minerality and lightly oaked waxiness. Mari found the nose intense, with fruity and floral aromas - bananas, elderflower and grapefruit. Chantel added her thoughts of a refreshing wine with good acidity, tropical character with oxidative hints - an attractive Chenin Blanc
Palate: An alluring rich expression of baked apples and cinnamon which are full-bodied and complex. Intriguing peach, yellow fruits, elements of waxiness and a touch of minerality. Good acidity and long, pleasant aftertaste and clean finish. A very good example of one of the better Chenin Blancs produced in South Africa.
Maturation: Koen's focus is shifting to his truly stunning terroir specific Chenin Blancs called Johanna Brandt and Sarah Raal and this may be the last of his Chenin Blancs to enjoy as a blend of the Chenin grapes from all of his Spioenkop vineyards. We will be putting a few bottles away because of that, just to stretch the pleasure of enjoying this blend as far into the future as possible.
Score: 92/100
4) Pinot Noir 2015
This is still a blend of the three distinctly different vineyards, soon to be bottled in three terroir specific versions.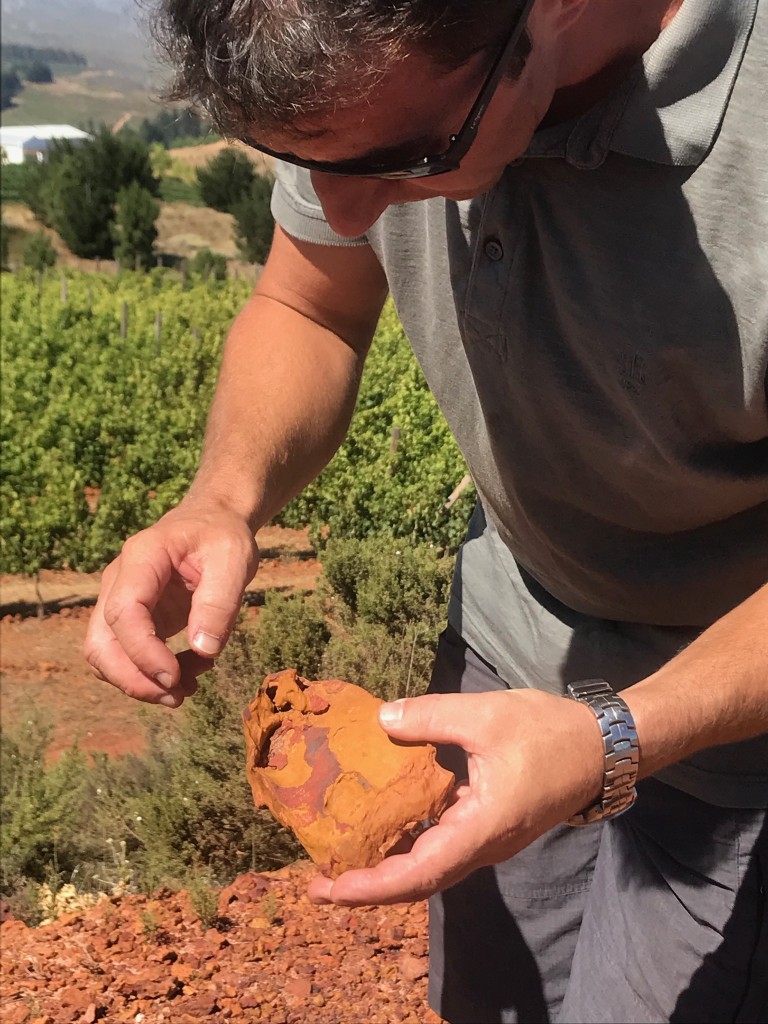 Colour: Deep Burgundy Red, darker than what can be expected from a Pinot Noir. Koen attributed this to the small berry size of the grapes (which we saw when we took a walk in the vineyards) grown in Spioenkop's vineyards, extracting more colour from the skins.
Nose: Primary notes of deep forest, old bark, wet leaves and freshly plucked mushrooms, but leave the wine in the glass and it did not take long for secondary fruit aromas to emanate - dark-skinned cherries with herbaceous notes that leans more towards potpourri than single herbs, although cloves were the unanimous choice, when we wanted to distinguish between the herbs, with shy violet notes in the background.
Palate: Sweet, soft and balanced, with a mouth-filling entry, coating the palate with elegant fruit driven tastes of fully ripe cherries, and sweet skinned, dark Burgundy-red prunes. Leave the wine in your mouth and the soft tannins make it a pleasing, even sensual experience, with a soft lingering spicy note of mostly white pepper that leaves a very pleasant reminder of a great wine tasted.
Maturation: I am afraid that the wine was so pleasant that it may all be gone before we can determine what the age-ability of the wines would be, and there are definite recommendations around the table that the wine should be enjoyed in its youth. However, always being the one voice to recommend that some of the bottles be laid down to show how it can benefit by maturity, I would suspect that the profile will soften even more and gain in suave elegance to be even more enjoyed closer to and even in the early 2020's.
Score: 92/100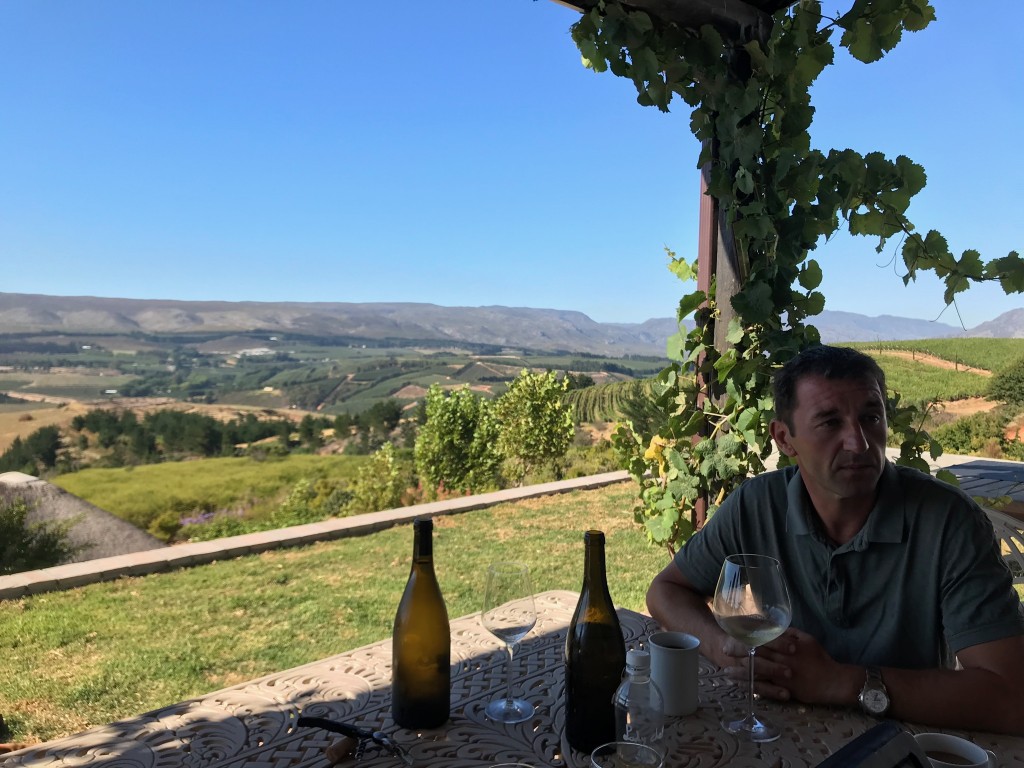 With our next blog, we will take you behind the scenes and into the inner sanctum of Koen's domain. A place seldom seen by anybody but a select few - his maturation cellar, to taste directly from the barrel/tank the new wines to be bottled soon. More about this later...
Santé
The Cellar Team.