Domaine Henri Gouges – The Pillar of Nuits St. Georges
Restaurant Mosaic hosted the winemaker of Domaine Henri Gouges, Antoine Gouges and his fiancée, Marie, on Wednesday 7 February 2018 for a world-class tasting event.
Domaine Henri Gouges is arguably the most famous in Nuits St. Georges and has been owned by the Gouges family since 1919. Henri Gouges inherited 9 ha of prime Nuits-St-Georges vineyards just after the First World War and expanded his holdings significantly between 1920-1934.
Today it encompasses 14.5 ha - including 7 ha of the best and well-positioned Premier Cru vineyards, namely Les Chaignots, Chene Carteau, Les Pruliers, the monopole vineyard of Clos des Porrets St. Georges, and 1 full ha of each of the appellation's most famous vineyards – Les Vaucrains and Les St. Georges.
In 1933, Henri Gouges was one of the pioneers of domaine bottled wine when, along with Marquis d'Angerville and few other domaines, he defied the might and power of the negociant monopoly that traditionally purchased the wine of all the domaines in barrel when he started to bottle his own wines, marketing them directly to his clients. It was also Henri who discovered in his vineyard that some red grapes had mutated into white grapes and they became known as Pinot Gouges, and it is from these unique grapes their white Perrieres is made.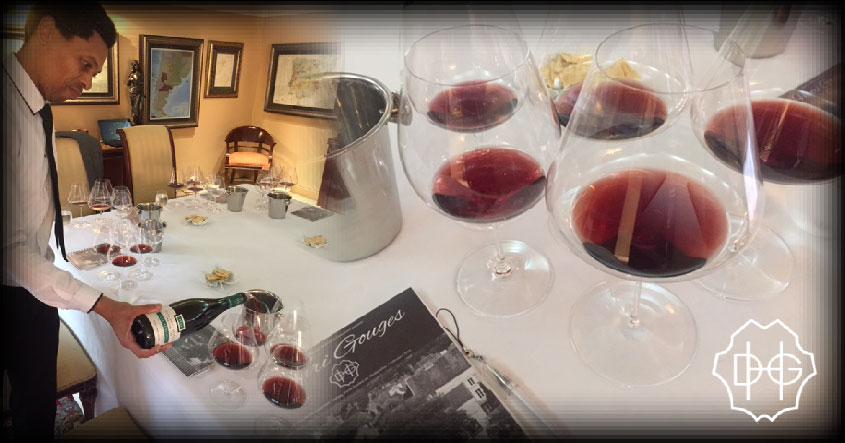 We were thrilled to present a line-up of three wines from the 2006 vintage, from different vineyards and made by Antoine's two uncles, as well as the 2013 and 2014 vintage from the Premier Cru vineyard, Les Pruliers, made by Antoine himself. Our sommelier team pre-poured the wines in advance, to allow the wines time to breathe for optimal enjoyment, before Antoine and our guests arrived at the tasting room.

The first flight of wines consisted of 3 different vineyards from the 2006 vintage:
"Clos des Porrets St. Georges" 2006
What is unique about this vineyard, is that it is a monopole of the Domaine - thus wholly owned by them. It has a deep burgundy colour with ruby highlights and opened with a complex nose of black cherries, gamy notes, and leather. Creamy on entry, then ripe in the middle, with a spicy lift that finishes with building tannins and notes of wild plum, iron, and minerals. Score 90/100
"Vaucrains" 2006
Located in the middle section of the hillside and just above the famous plot of Les St. Georges, this is wonderfully sweet and pure, with a distinct sappiness to its berry, mineral and saline aromas and flavours of raspberry. It finishes with a quiet intensity and fine tannins that filled the sides of the palate with a long and pleasant aftertaste. Score 91/100
"Les St. Georges" 2006
The Les St. Georges Premier Cru vineyard is undoubtedly the most celebrated of the commune and is regarded to be of Grand Cru quality. It has a knockout nose of wild blackberry, minerals, and leather. It is broad and rich, with granular tannins and a terrific subtle persistence on the palate - filled with rich and ripe fruit, destined to age gracefully for yet another decade. Score 92/100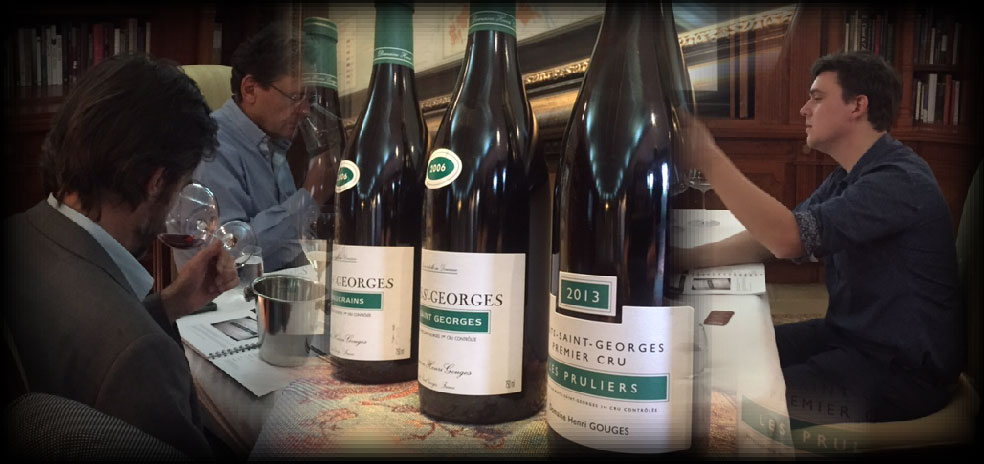 The second flight was a comparison between the 2013 and 2014 vintages from the "Les Pruliers" Premier Cru vineyard. These were some of the first vintages that Antoine himself was involved in, both in the vineyards, as well as in the winemaking process – "some of my very first babies" as the latest generation winemaker of the Domaine remarked. The difference between the two vintages was notable, but we were all in agreement that these were two incredible wines from this 50-year old vineyard. The grapes of Domaine Henri Gouges are hand-picked, sorted and 100% de-stemmed as, according to Antoine, "there is enough tannin in Nuits already without adding it from the stalks." We could definitely agree after tasting these wines, that they have quiet but intense tannins that support the well-known fact that the wines from Domaine Henri Gouges can age incredibly well.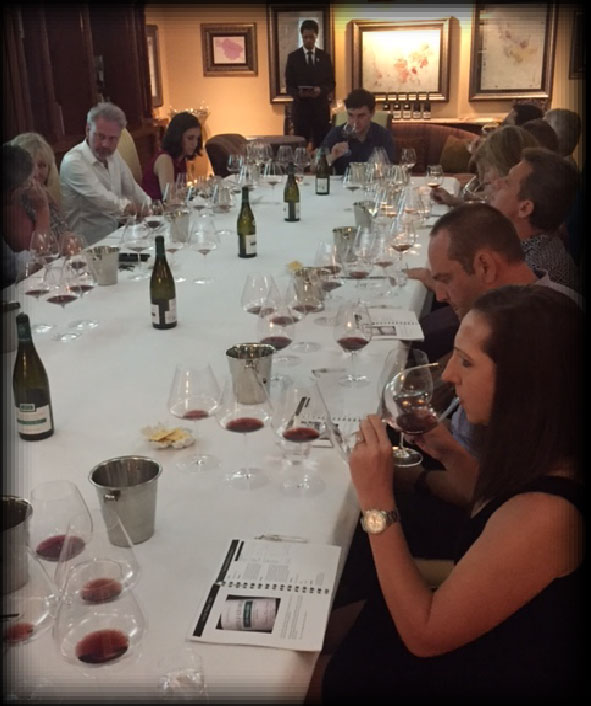 "Les Pruliers" 2013
The 2013 has a pastille-like purity on the nose with a cheeky touch of marmalade. The palate is medium-bodied, has real class, bridled with superb tension and fine tannins. The wine offers superb potential and Mosaic will definitely keep our own examples in the cellar for as long as possible. Score 92/100
"Les Pruliers" 2014
The 2014 displays a plummy ripeness along with hints of redcurrant, earth, and tobacco. Broad, complex and mouth-filling, but still young and shy and in need of more time, but showing its pedigree and backbone that will allow this wine to develop into yet another brilliant example of the quality that is "Les Pruliers". Antoine explained that ideally, these wines take about two years after bottling to open up - making this vintage still a little young to consume now. But no-one could deny that there is excellent potential here. Score 92/100
It was yet another one of those unforgettable experiences to taste these beautiful wines with this dynamic and energetic young winemaker, and we look forward to more vintages from the Domaine to arrive in our cellar!
Thank you, Antoine, for taking the time out of your holiday itinerary to visit Restaurant Mosaic, and share with us the philosophy and tradition behind your wines.
Santé
The Sommelier Team