New and Special Releases from Spioenkop
The Mosaic Team (Cobus, Taryn, Eric, Moses, Chantelle and Annerie) assembled in full force this past Tuesday, to taste some new and special releases from our beloved Belgian winemaker, Koen Roose. For the first time, some of these wines were exclusively made from grapes grown on the Spioenkop Estate itself, with no grapes sourced from other vineyards. Anyone who is familiar with Koen will be aware that he loves to experiment with new wines and sometimes controversial and unique blends. And that is precisely what he did.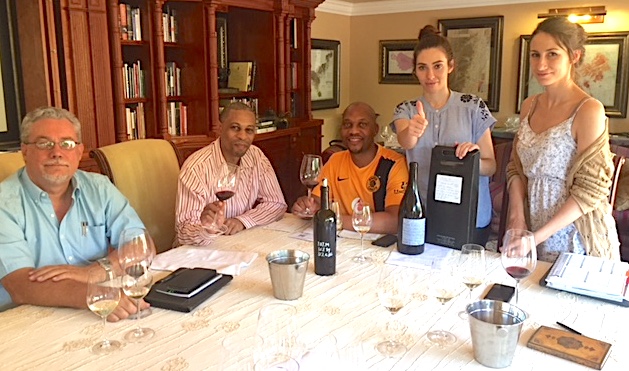 Spioenkop Queen Manthatisi 2016
We were very excited to taste this new release - Queen Manthatisi. Koen is saying farewell to his previous 1900 Sauvignon Blanc label with this new offering which is made with 100% of his own Elgin grapes, grown on the steep slopes and different soil structures found in the Spioenkop vineyards. A masterful blend of 92% Sauvignon Blanc, left for 9 months on its natural fine lees, and 1 barrel of his award-winning Sarah Raal Chenin Blanc - we all agreed that this is a very interesting take on the future Spioenkop Sauvignon Blanc releases.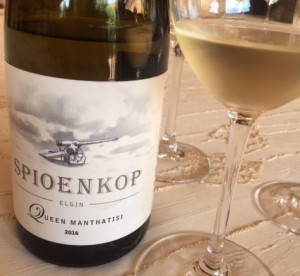 Glass: Riedel Sauvignon Blanc
Colour: Very light yellow, almost translucent, with a slight green tinge.
Bouquet: The wine opened a little shy with notes of citrus that is clean and fresh, followed by a hint of flint from the Ferrocrete soil the grapes are grown on. There is a slight flowery element (granadilla blossoms?) on the nose with additional notes of white pear and green apple skins. The nose is multi-layered and complex, with white pepper and more tropical nuances as the temperature of the wine increases.
Palate: It is clean on the entry with a fresh mineral undertone, with a leesy character from the extended time on the lees for both of the components. Lemon peel marmalade notes prevail with hints of soft white fruits – juicy pear and quince. Well-balanced and well-rounded with a pleasant salty note on the finish.
Ageing: We recommend to drink this wine now to appreciate the fruity flavours, but it will easily keep for the next 5-6 years.
Pairing: This is an elegant and understated wine that would pair beautifully with a light, freshwater fish such as trout or a fusion style vegetable stir-fry.
Score: 90/100
Spioenkop Virginity III "Lady Chef" 2017
The next wine we tasted has an interesting story (and history) behind it … Mosaic paired the very first Virginity I, (a blend of Sauvignon Blanc, Sémillon and Viognier) with the dish "Garden of Eden" in one of Chantel's previous menus with great success and after releasing a second Virginity II, which was based on 100% Pinot Noir, Koen has now released the Virginity III - another smashingly good white blend, this time from 60% wooded Riesling and 40% Sarah Raal Chenin Blanc. The story goes that Koen finished this wine on the evening that Chantel was named as the International Female Chef of the World in 2017, in Warsaw last year - hence the name "Lady Chef" … There is only a limited amount of Magnums made, continuing in the tradition of his Virginity range.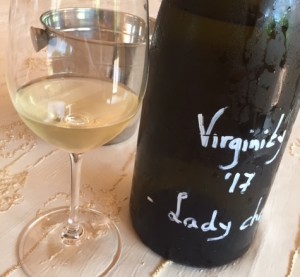 Glass: Riedel Riesling
Colour: Pale straw with a green edge, the wine is clear and bright.
Bouquet: A bold candy-store nose that takes you back to your childhood days … sweet candied banana fruit, bubblegum notes, sour candy and hints of sweet cinnamon is off-set by aromas of white peaches with some barely-there tropical notes with the Riesling adding the typical petroleum elements. There are light juicy white peach aromas as well, but overall the nose is seductive and enchanting all in one.
Palate: The wine is well-balanced, but we would recommend a little more time in the bottle for the wine to mellow and bind together, yet it has an enticing and pleasant sweetness on the palate that is more-ish (and before we knew it, we had drunk the whole bottle!) There is a light sherbet note on the finish and green apple skins that lingers long after the last mouthful.
Ageing: We would recommend tasting this wine again in another 3 years before you decide to cellar it, but do believe that it has the backbone for a long time in perfect conditions.
Pairing: A bold wine that could pair well with a mild Cape Malay curry or perhaps a fatty fish such as Butterfish or prawns fried in a buttery sauce. This may even be a good accompaniment to a traditional Cape Bobotie or a South-East Asian mild yellow curry hot-pot.
Score: 93/100
Spioenkop Frozen 2016
The very first Frozen blend was released last year as the 2015 vintage and was a blend of Cabernet Franc and Syrah. This time Koen has decided to base this unique red blend of 38% Merlot with equal amounts of Cabernet Franc and Syrah, with all the grapes sourced from Elgin.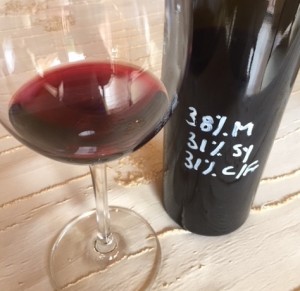 Glass: Schott Zwiesel Bordeaux
Colour: Light-medium garnet colour with an even darker plum core and Burgundy Magenta towards the rim.
Bouquet: Aromas of black cherries, mulberries and blackcurrants explode from the glass, followed by more toned, yet still pronounced notes of earth, leather, smoke, pencil shavings and sweet cedar oak. The nose almost reminds of freshly baked fruit cake with dark chocolate notes and a hint of balsamic reduction. It is very complex and layered with a hint of white pepper appearing after a while in the glass.
Palate: The tannins are well-balanced with soft red fruit flavours of raspberry and mulberry on the entry, followed by plums and sweet smelling, smoky leather. An easy drinking, pleasing wine that is supple and thoroughly enjoyable.
Ageing: The wine is approachable enough to drink now (especially for those oenophiles that do not have enough patience) but will cellar well and can easily be kept for the next 8 years.
Pairing: We recommend a glazed pork belly, or duck with cherry sauce, Swordfish, Tuna, lamb, or mutton - something fatty and full of flavour that the bracing acidity can cut through. May work well also with an aged Kilimanjaro, or Gruyéré cheese.
Score: 91/100
We always love the Spioenkop wines and again we are not disappointed! Lovely, well-thought-through wines that make you think and takes you back in time...
As Koen will say – "A good wine starts in your head…"
Santé!
The Sommelier Team