Fun in the Mosaic kitchen – the CWG Cookout was an epic night to remember ...

The Restaurant Mosaic Team has always been proud to be associated with the prestigious Cape Winemakers Guild – whose members are experts in their respective fields, performing at the forefront of innovation, benchmarking and the sharing of knowledge in the South African wine industry.

Every year these leading South African winemakers showcase their finest and most exceptional wines, produced exclusively (and in very limited quantities) for the annual Nedbank Cape Winemakers Guild Auction, held at Spier Wine Estate during the first weekend of October.

Leading up to the Auction, members of the CWG host three formal VIP tasting events – one in Cape Town and two in Gauteng – to introduce their wines that will come under the gavel that particular year. The Mosaic Team is always in attendance for the two VIP tastings in Gauteng, usually following the principle of "divide and conquer", with half the team attending the tasting in Pretoria and the other half attending the Johannesburg tasting.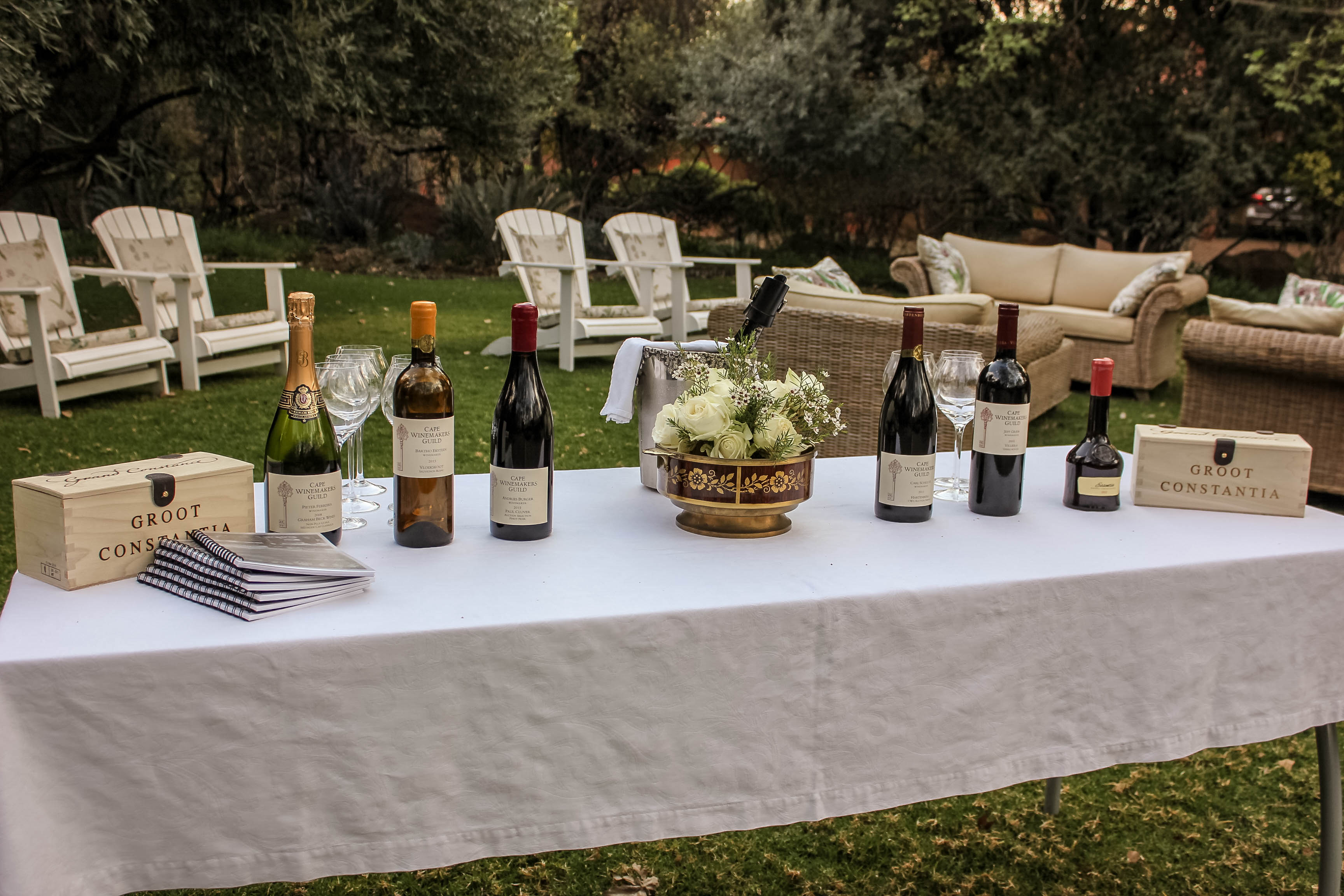 We have decided however to mix it up a bit this year and invited six members of the CWG to an exclusive dining experience at Mosaic to showcase some of their previous Guild wines to our guests… To add a little twist we asked if they would be willing to step into the shoes of "chef extraordinaire" during one evening and go head-to-head with Chantel in her inner sanctum! This request was met with huge enthusiasm and we had no problem recruiting six "stand-in chefs" to join us for an evening of unprecedented fun – Pieter Ferreira, Bartho Eksteen, Andries Burger, Carl Schultz, Jeff Grier and Boela Gerber (their illustrious leader) was the lucky six chosen to take on Chantel and her kitchen (and sommelier) teams on Friday, 24 August 2018.

We had great fun "prepping and planning" for this exciting event - although we have to admit with some trepidation and (slight) nerves as this has never been done before! Excitement won out in the end as it was clear from the massive feedback we received from social media that not only was the winemakers looking forward to challenging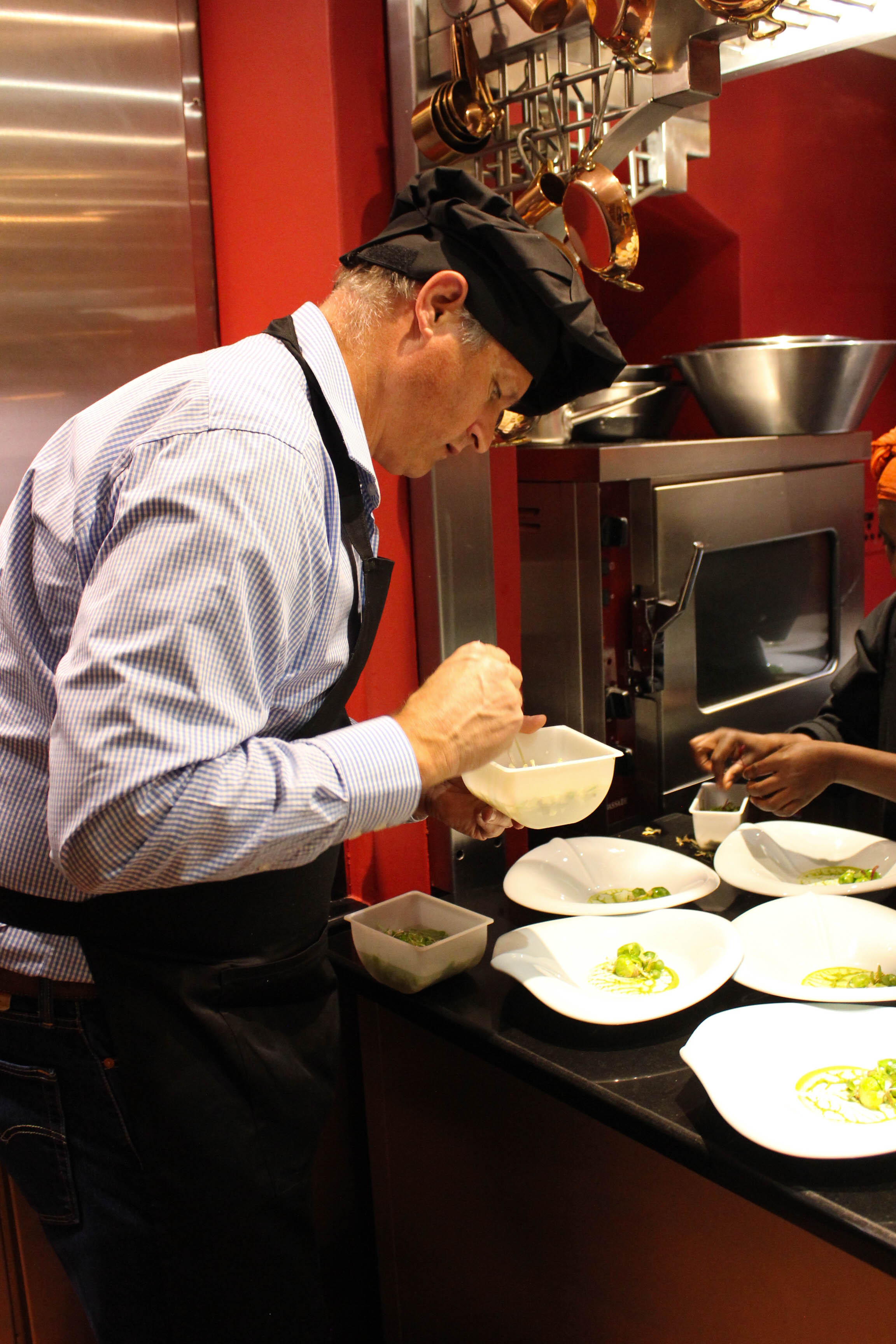 Chantel and show off their cooking skills but so were our guests if the fast-selling tickets and overbooked restaurant were any indication!
Our well-known (and loved) sommelier, Moses, was there to fetch the winemakers from their hotel in Johannesburg with a minibus and some lovely champagnes imported by Restaurant Mosaic – making sure they had all the liquid courage they needed for the evening... Needless to say, the winemakers were much happier and relaxed (and very confident in their cooking abilities) by the time they arrived at Mosaic! Chantel and her team took "her new chefs" on a grand tour of the kitchen to familiarize them with the layout (you know – to give them a chance at survival!) before introducing them to our brave guests (and of course some more champagne…).They proudly donned their aprons and chef hats, looking and acting the part… and then we were all ready (hopefully) for dinner, and a six-course menu paired with some of their own CWG wines from previous years.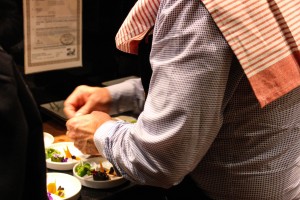 There is not much more to say but "wow wow wow!" It was an amazing sight having six world-renowned winemakers and pillars of the South African wine industry, running amok in the kitchen and dashing around the restaurant with such flair and confidence… introducing (expertly we might add) their respective dishes and explaining their wine pairing choices – all done in great style! It was a sight to see Boela rest a while between running around with his little "helper" looking tired but satisfied, while Andries managed to plate his masterpiece in the kitchen (looking a little panicked to have to feed more than 40 guests with so little time!)…

This was definitely a night that will be remembered for a very very long time! We are incredibly proud of all six winemakers and the enthusiasm they shown to be a part of this fun event! We already know that they are some of the very best winemakers in South Africa and the world, but know the secret is out… they are also brilliant "chefs" and we look forward to welcoming them back to the Mosaic kitchen in the future.

And just to make sure that our guests went to bed sated and maybe a little tipsy… Boela surprised everyone with a hidden gem from his private cellar – the Essentia 2012! A wine made in the style of the sweet Tokaji's of Hungary, this nectar is extremely rare and very seldom sees the light, being kept in the darkest corner of Boela's cellar… It was the perfect ending to one of the best and most hilarious events we ever hosted at Mosaic!

Thank you, Pieter, Bartho, Andries, Carl, Jeff and Boela for being such great sports and for making this evening so much fun…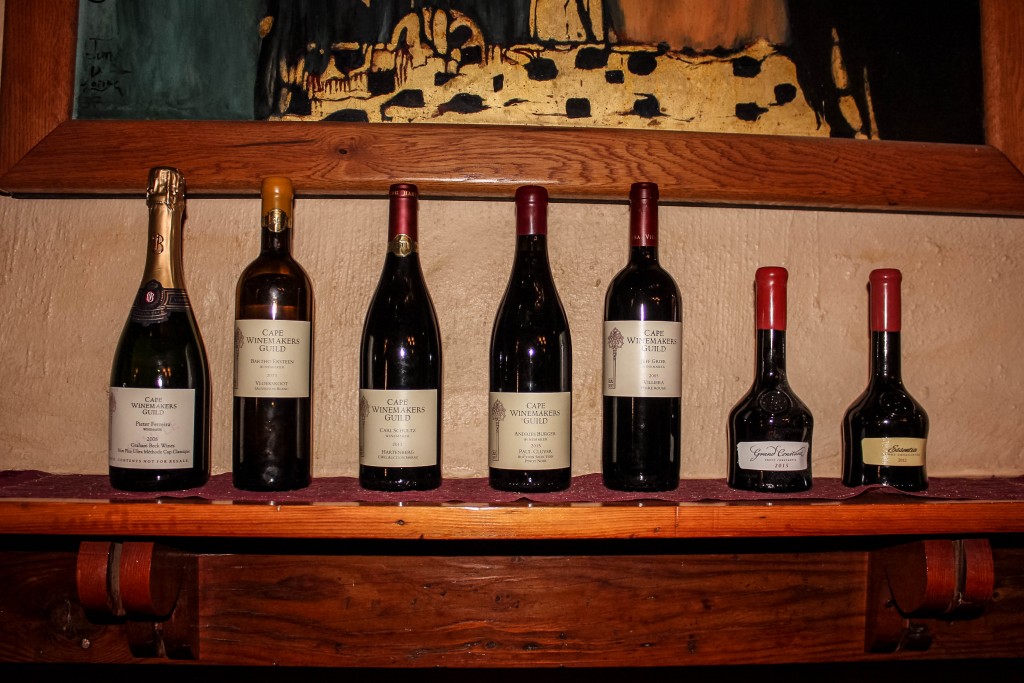 It was an honour to have you all with us and we look forward to seeing you at the Auction this year.

Santé!

The Mosaic Team