The Prince of Pinotage - Beyers & Anri Truter astound with wines from the past 30 years at Mosaic...

Guests were treated to an astounding evening of award-winning red wine, dating back to 1989, with legendary winemaker, Beyers Truter - formerly the winemaker at Kanonkop Wine Estate - and his son, Anri - now the 7th generation to farm and the 2nd generation to make wine from the almost mystical terroir of Beyerskloof, on Friday, 07 September 2018.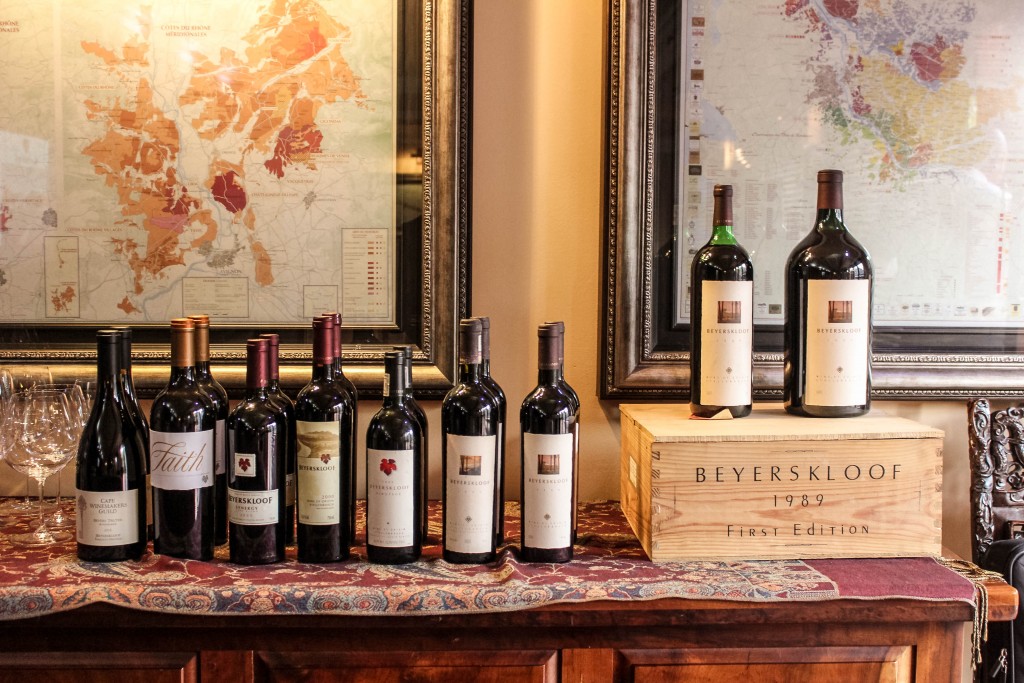 Renowned world-wide as the "Prince of Pinotage", the history of Beyerskloof is intricately linked to the history of the proudly South African cultivar, Pinotage... and no-one is more responsible for the international acclaim and rise to fame of this purple-skinned hardy grape. It was such a treat to have Beyers with us - a 'storyteller' of note, he had guests laughing from the word go! From the hilarious beginning of the now iconic red leaf label that distinguishes Beyerskloof from any other, to the current "ban" placed by the new generation winemaker, his son Anri, allowing Beyers to only make experimental wines in the cellar at night! It is clear to see that despite many challenges, there is a lot of love and respect between father and son...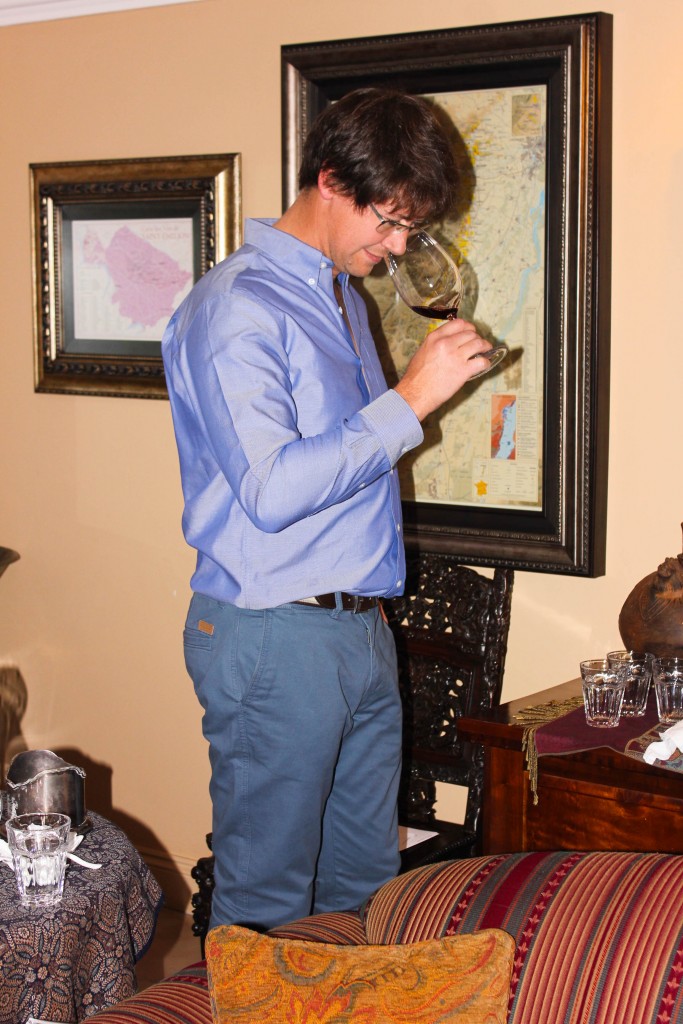 Beyers and Anri joined the sommelier team in the tasting room before the start of the event to open and taste their oldest vintages in preparation of the formal tasting - it was an emotional moment for Beyers when he had his first sip of the very first vintage ever madeunder the Beyerskloof label, the First Edition 1989.

Beyers started the 'formal' proceedings with a quick introduction to the history of Beyerskloof. It was a true revelation to hear how far he has come from his very humble beginnings as a young winemaker to one of the most recognized and renowned figures in the world. Charismatic and self-effacing, Beyers Truter is a man that doesn't take himself too seriously - although he makes some serious wines... He is the first to point out when he has "messed up" and last to proclaim himself as "The Prince of Anything". He believes in his terroir, stating time and time again that wine is made in the vineyard... he is only the custodian, taking what nature offers so freely and bottling it to share with the world.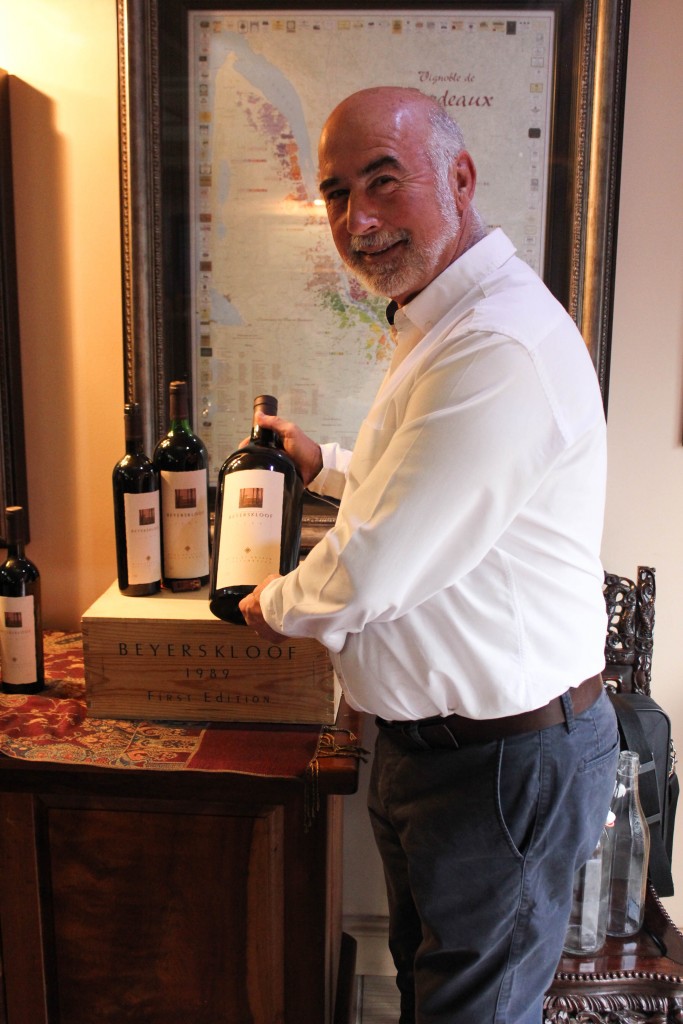 The first wine poured was made by Beyers, specially for the Cape Winemaker's Guild, of which he has been a member since the early 1980's, and bought by Mosaic at the CWG Auction in 2017. The CWG Traildust Pinotage 2015 is made from the very best three barrels of Pinotage, selected by Beyers (the rest is used to make the iconic Diesel Pinotage) and was aged in new French oak barrels for 21 months. With intense and savoury notes of leather, earth and blackberries, the wine had a plush texture with firm, yet well-integrated, tannins and a core of tight black fruit and a touch of spice. Showing style and finesse now, this wine can easily be left to age for another 10 years before it reach it's full maturity.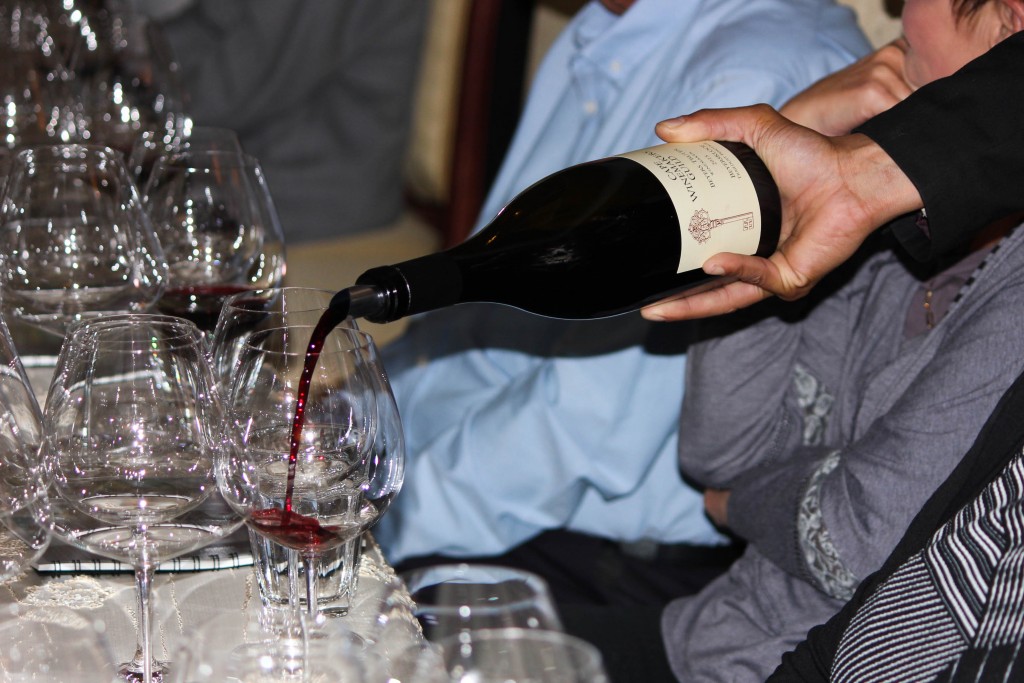 The next wine was the Faith 2010 - a Cape Blend made up of Pinotage, Cabernet Sauvignon and Merlot - this vintage was made by Anri Truter, who took over from his father in 2007. Aromas of blackberry, chocolate and plum with some delicate spice notes, this big-structured wine is well-rounded and elegantly balanced. It is clear to see that Anri is indeed following in this father's famous footsteps, making wines with incredible beauty and elegance, that are bold and structured - a wine to age...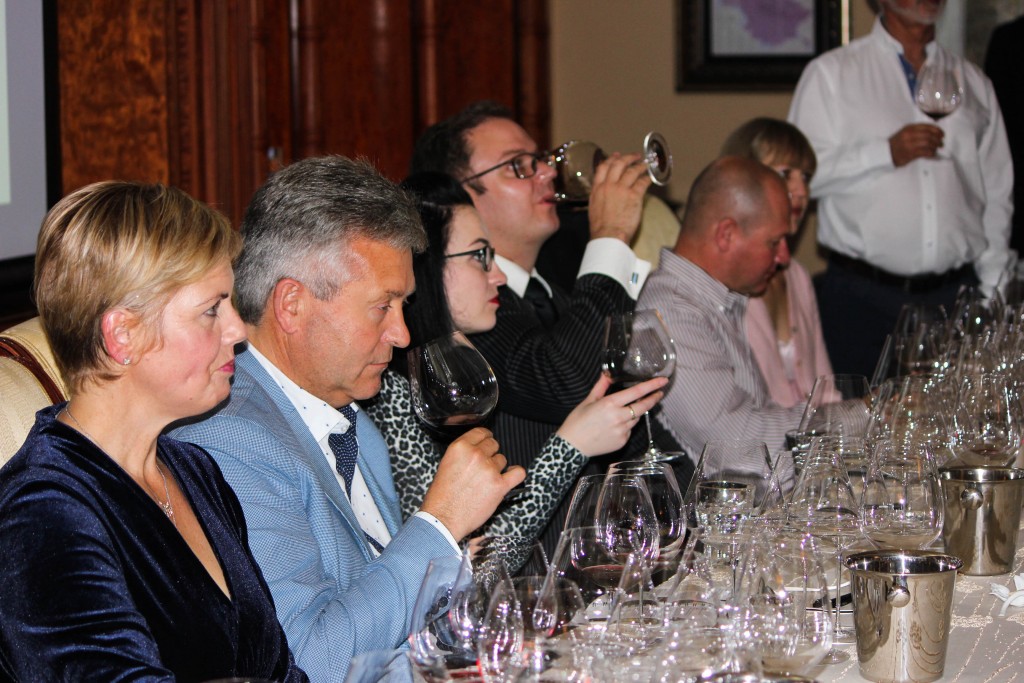 The next wine to be poured, was the Synergy Cape Blend 2005, another blend of Cabernet Sauvignon, Pinotage and Merlot made by combining the classic European and New World styles to create a wine that is sweet on the palate with pungent notes of spice and leather. Well-defined, this offering is intense and full-flavoured with a lingering, dry finish.

Beyers decided to then pour the Pinotage 1995 - made in the classic style of his best known brand - this wine still showed primary fruit aromas with hints of plum and red cherries leading to a structured, medium-bodied palate with strong plum and chocolate flavours. Despite its age, the wine was well rounded and elegant with velvety tannins. A true testimonial of the age-ability of Pinotage... He then moved on to the Field Blend 2000, made up of a blend of Cabernet Sauvignon and Merlot. Sweet spice on the nose paved the way to an intense palate with flavours of blackberry and spice - well-balanced and smooth on the palate with a long finish.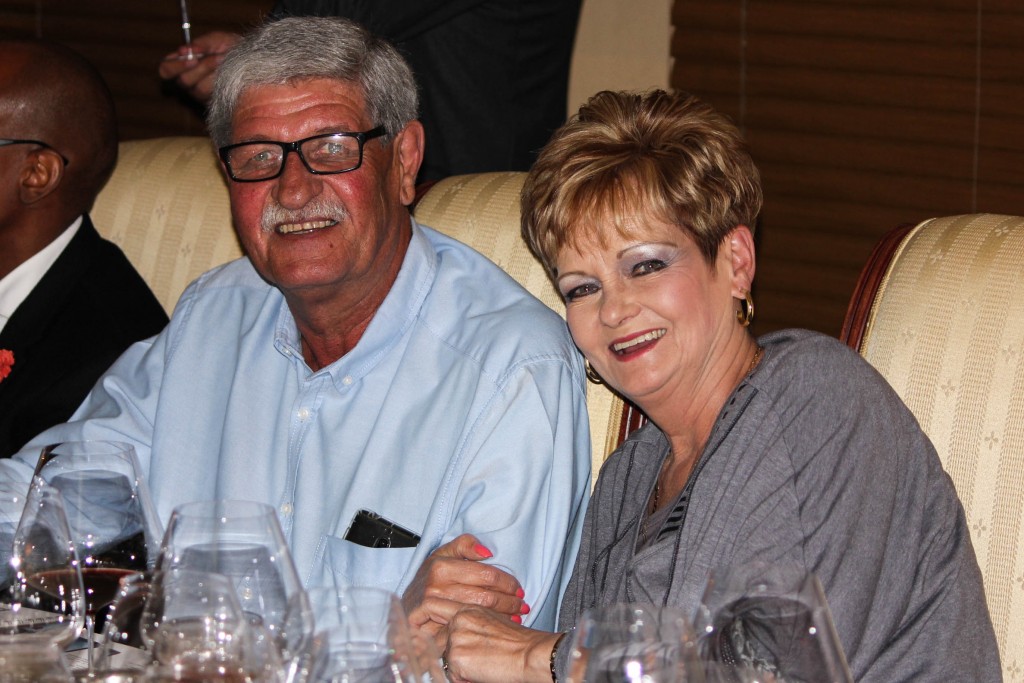 The final two wines of the evening was made from 100% Cabernet Sauvignon and dates back to 1991 and 1989! Guests were blown away by the freshness and vibrancy of both these wines and we all had a moment of silence to savour the flavours contained in the glass... The 1991 showed ripe plum notes with a hint of nuttiness and spice. It had a clean entrance on the palate with some oaky characters and subtle notes of blackcurrant. Still showing a firm structure with ripe tannins and good acidity. The 1989 surprised with an almost translucent, Pinot Noir-like colour. In contrast to the colour, the nose had intense aromas of ripe black berries and pepper, with notes of bitter chocolate evolving to dried mushroom after spending more time in the glass. Juicy and complex, there is still a lot of fruit on the palate with elegant tannins and a lingering, sweet aftertaste.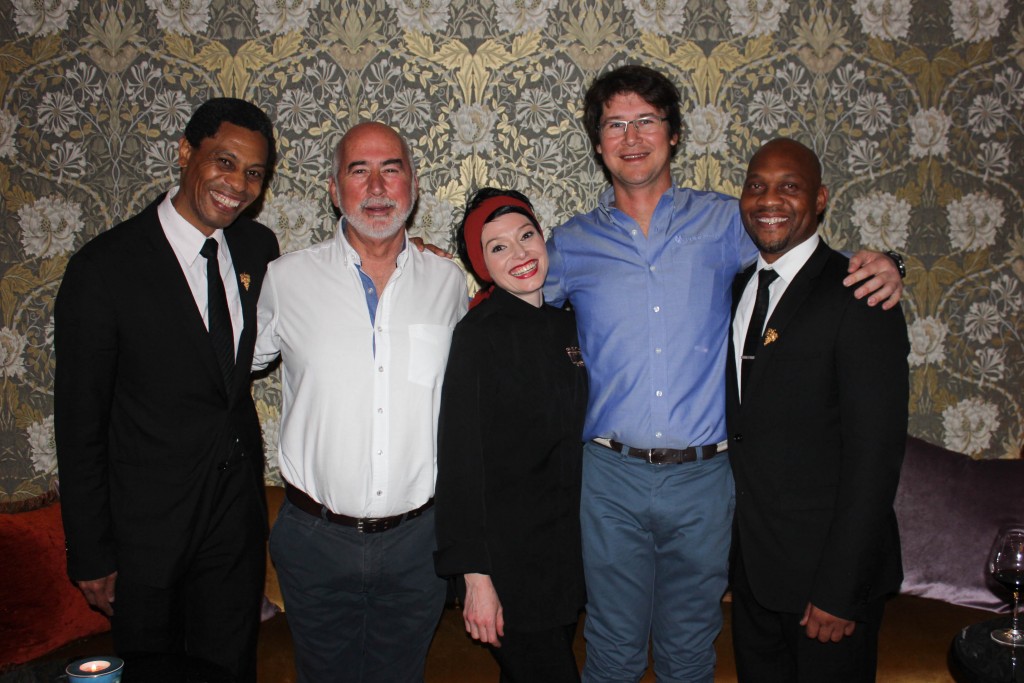 The evening was concluded with a special five-course dinner from Chantel's current and previous menus, showcasing some of her new dishes, soon to be revealed in her Spring Menu, paired with selected wines from the Beyerskloof portfolio, made by Anri. Guests had the opportunity to spend some one-on-one time with both winemakers, sharing stories and enjoying a gastronomic evening filled with great food incredible wines and good conversation.

Thank you to Beyers and Anri for making the trip to Gauteng to share these beautiful wines with us!

Santé!
The Sommelier Team