During the course of 2019, we will be treating selected guests to a memorable Monthly Rare Ingredient Evening, once a month where Chef Chantel will take them on a unique and rare taste experience. On Wednesday, 27 February 2019, guests were treated to the very first Rare Ingredient Evening, where Chef Chantel prepared a 5-course meal with the pinnacle in fine cuisine. One of the dishes was The Millionaire's Nest Egg, made with Quail eggs, black Truffle paste, Courgette and sprinkled with a few decadent slices of Black Truffle.

There has always been a great mystery surrounding this rare ingredient that only thrives in perfect conditions which have enticed chefs over centuries to create the most decadent dishes to truly bring forth the earthy forest flavours.
Truffle hunting in Piedmont
There are quite a few advantages to visiting Italy in Autumn, but for me, the most exciting of all is that it is the season for the famous White Truffle. To take full advantage of this magical season we decided to head to the region of Piedmont where, in the very small village of Asti (mostly known for their wonderful wines), we were met by our guide and interpreter, Sylvia. As we drove towards La Morra I could hardly contain my excitement.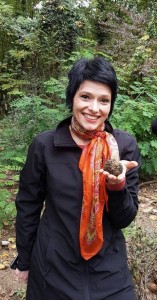 For the first time in my life, I would have the opportunity to go truffle hunting with professional truffle hunter, Marco Varaldo, along with his specially trained truffle tracker, Lila.

It was magical walking in the woods knowing that they are filled with these prized jewels of the culinary world, seeing first hand the close bond between the truffle hunter and his canine companion.
After only a short distance Lila excitedly indicated that she had picked up the scent of one of these exotic jewels deep beneath the soil and carefully started digging, indicating to Marco where he needed to extract the truffle from between the roots and soil.

I can't quite describe the feeling of experiencing such a hunt other than the excitement of it. After a 6 km trek and a pouch filled with fragrant fungi, I couldn't wait to get back to the kitchen and start cooking...
Bon Appétit!
Chef Chantel