The Restaurant Mosaic Team returned from their annual winter break last week rested and rejuvenated… and looking forward to jumping back in the saddle! Right of the bat, we were invited to attend the Annual Trade Day of the ExAnimo Wine Co. - headed by David and Jeannette Clarke, who are both qualified sommeliers with international experience.

ExAnimo translates to "from the heart" in Latin and true to this saying, the ExAnimo portfolio is focused primarily on an exciting group of eclectic, creative and sometimes experimental "new generation" winemakers, making name for themselves for producing unique, terroir-focused wines in a natural approach, mostly from old bush vines and rare cultivars, with as little interference as possible.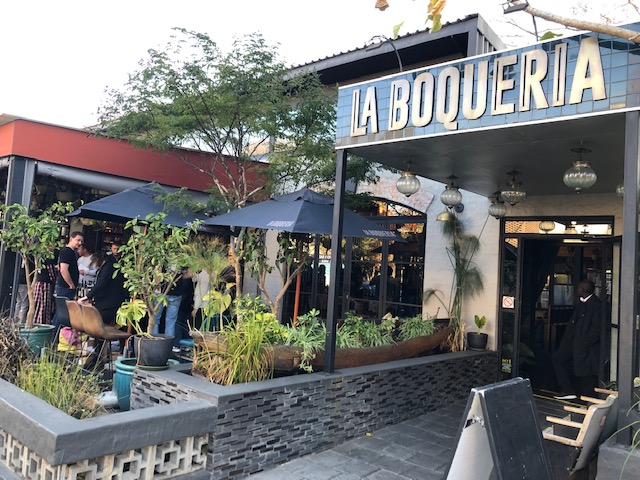 This year the Trade Day was hosted at the über-trendy Spanish-inspired La Boqueria in Parktown North, which provided the perfect background for this exciting annual event. Two bubbles was poured as a welcome – a 100% Chardonnay crafted by owner of Genevieve MCC, Melissa Nelsen, hailing from Bot River in the Overberg, a region known by its credo "real wine made by real people". Spending 4 years on the lees with zero dosage, this is salty and creamy with a lingering mouth-feel – truly delicious! This was accompanied by the elegant and fruity Dainty Bess 2015 from Jane Ferreira-Eedes, a 100% Pinot Noir (50% from Elgin and 50% from Wellington) named after one of her mother's favourite roses. A food friendly bubbly that spent 3 years on the lees this is serious, yet still retains freshness.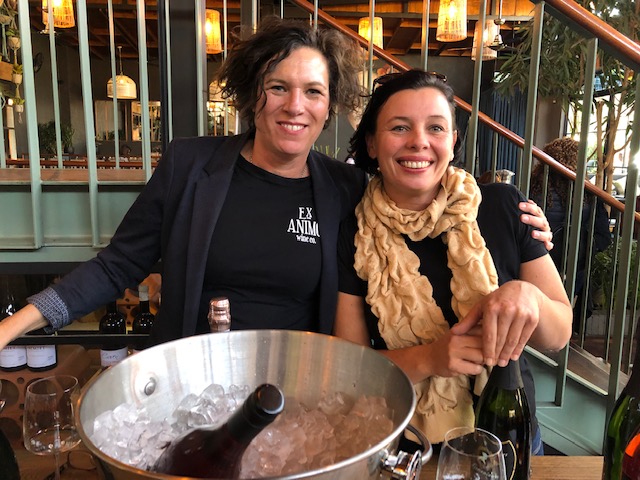 David then directed us to start tasting - alphabetically, from left to right – kicking off with a truly exciting wine from Mick and Jeanine Craven, the Craven Clairette Blanche 2018, one of the only single vineyard Clairette Blanche wines found in South Africa. Sadly, Mick told us that, unbeknownst to him and much to his disappointment, this vineyard has been uplifted by the farmer since the harvest last year and the 2018 will therefore be the very last vintage…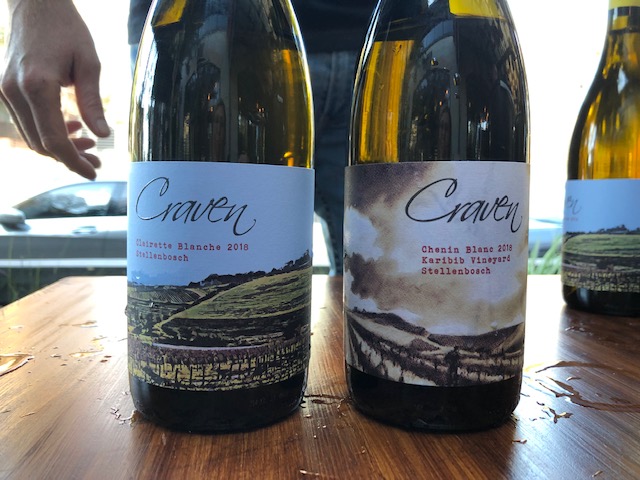 We continued to taste a selection of wines from the entire portfolio of winemakers (encompassing over 70 wines presented on the day!) and here are only a few of the standout wines we can definitely recommend to look out for:

The Foundry Grenache Blanc 2018:

The Foundry was established on a shoestring budget in 2001 by Chris Williams and his friend James Reid and in Chris's own words, he aims to make wines that has "intensity without weight". This was clearly true from the first wine we tasted - made with 100% Grenache Blanc from a vineyard in the Voor Paardeberg (and the only wine in his range not from Stellenbosch), this is a truly exceptional wine with restrained elegance and grace.

Colour: Light straw colour – clear and brilliant.

Nose: Showed lovely floral aromas with hints of lemon cream and white stone fruit.

Palate: The palate is rich but restrained with focused, pure fruit and good minerality on the mid-palate and a rich, fleshy mouthfeel with a lingering finish.

Score: 92/100

The Foundry Viognier 2018:

Another surprising offering from Chris was a 100% Viognier, grown on a vineyard in Stellenbosch, about 3,5 km from False Bay. According to him, this is the 2nd coolest Viognier vineyard in South Africa. Chris explained that to make this wine half of the free run juice was inoculated and the other half underwent "wild", un-inoculated fermentation in 2nd-fill French Allier oak white wine barrels. It was then matured on the lees for 8 months "sur-lie" in barrel.

Colour: Pale in colour with a greenish hue.

Nose: The nose was exotic with expressive notes of apricot, spring blossom and creamy citrus, while still remaining undoubtedly elegant.

Palate: The palate has flavours of with ripe crushed fresh fruit and a mineral steeliness which makes this wine ideal with food. There is a line of natural acidity running through the wine maintaining freshness and focus. A gorgeous Viognier that can age for 5 – 10 years.

Score: 92/100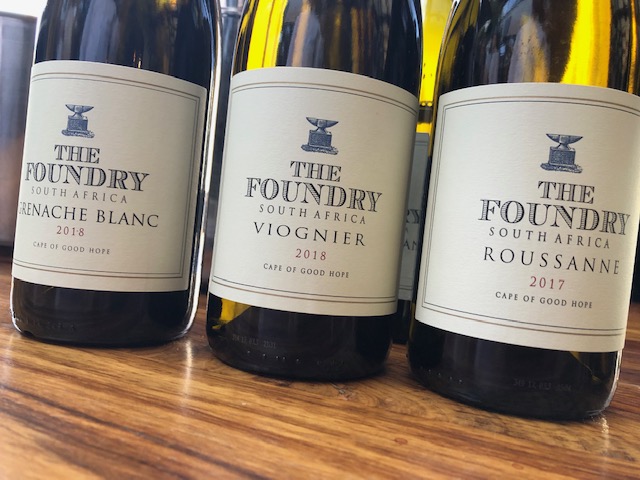 The Foundry Syrah 2016:

Sourced from a single vineyard of Syrah situated only 3 km from False Bay planted on well-drained, granite soils. Chris explained that for this wine he allowed the first half of fermentation to proceed naturally, while the second part was completed by a neutral Rhône yeast. The wine underwent natural malolactic fermentation in 300 liter "hogsheads" with only 15% new barrels, the remainder being 2nd-fill.

Colour: Lovely purple-ruby colour – almost transparent.

Nose: An enticingly perfumed bouquet with exotic hints of wild herbs, violets and plums and a pronounced savoury character.

Palate: The palate was intense and rich yet still elegant with generous ripe fruit and structured, silky tannins. It had a delicious, lingering fruity aftertaste.

Score: 93/100

We also tasted the newest vintage of some of our old "tried and tested" favourites such as the Testalonga El Bandito Cortez Chenin Blanc and its "big brother" the Skin Contact Chenin Blanc as well as the Red and White blends from Vuurberg, made by Donovan Rall. We also had a good laugh with Niels Verburg while tasting his Saboteur wines!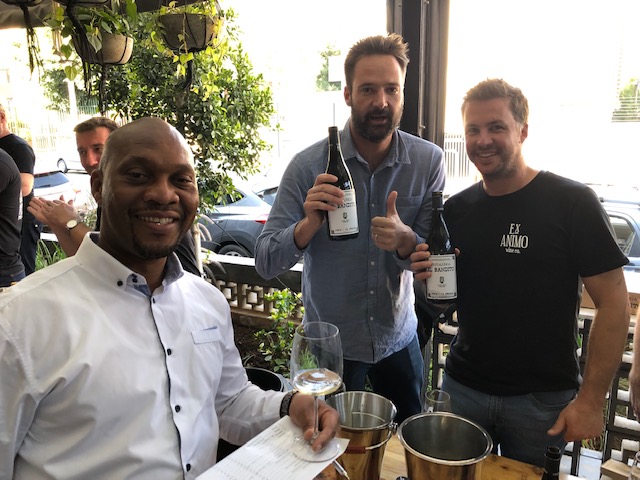 Lastly we had some fun with the more "experimental", rather unique wines from JH Meyer and Mother Rock, both crafted from the hand of Johan 'Stompie' Meyer. He focuses exclusively on hand-crafted natural Chardonnay and Pinot Noir from small plots of vineyards under the boutique label of JH Meyer. Under the Mother Rock label the style of winemaking is all natural with minimal intervention – producing rare, terroir-focused wines with creative and unique labels which was created in conjunction with an artist friend, depicting the soil where each of the wines are found. He also makes two "orange" wines from Viognier (called the "Sleeping Co-Pilot) and Chenin Blanc (called the "Elementis").

It was a fun and informative afternoon with the young and upcoming "movers and shakers" of the South African wine industry, showcasing all in, their different ways, our unique soil types and divergent terroirs.

Thank you to David and his team as well as all the winemakers for sharing these special wines with us!
Santé!
The Sommelier Team