The Mosaic Cellar Team was invited to attend the much-anticipated vintage launch of the 2017 Palladius and Columella and the 2018 Sadie Old Vine wines, hosted by Great Domaines and presented by Eben Sadie at Douglas & Hale on Wednesday, 24 July 2019.

There has been some speculation that the drought in the Swartland has severely impacted the winemaking in this region, Eben readily acknowledges that they have lost up to 30% of their production each year for the last 3 years, however, this has not necessarily been negative, in fact, he says that the situation in the Swartland has forced them to advance their farming processes and policies with up to 10 years – resolving many of the challenges they faced and ensuring that they are able to successfully keep producing their award-winning wines every year. The quantities may be smaller but Eben and his team will not need to sacrifice on quality… and isn't that what it is all about?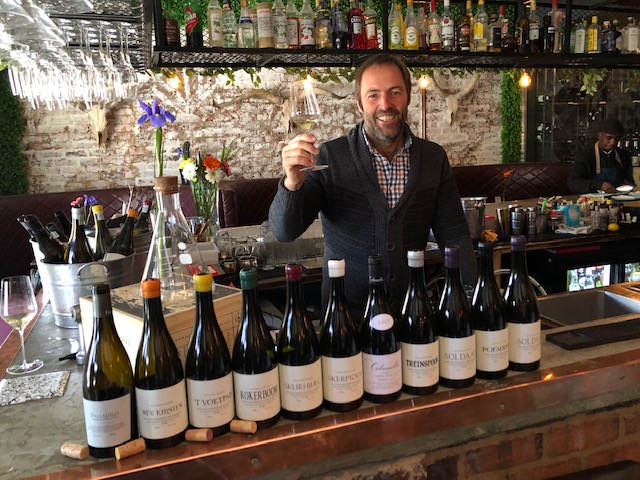 Eben touched on the affect the continuous drought has had specifically on his various Old Vine vineyards, stating that the 'Kokerboom' vineyard has been the most affected due to its location – it is the most north-eastern vineyard and he was forced to harvest this vineyard much sooner than he would have liked, while 'Mev Kirsten' was the least affected as it is the only vineyard in his portfolio not located in the Swartland.

Interestingly, we started the tasting with the red wines - Eben explained that his white wines have a much higher acidity than his reds and he believes that one should always taste "from a low to a high acid point".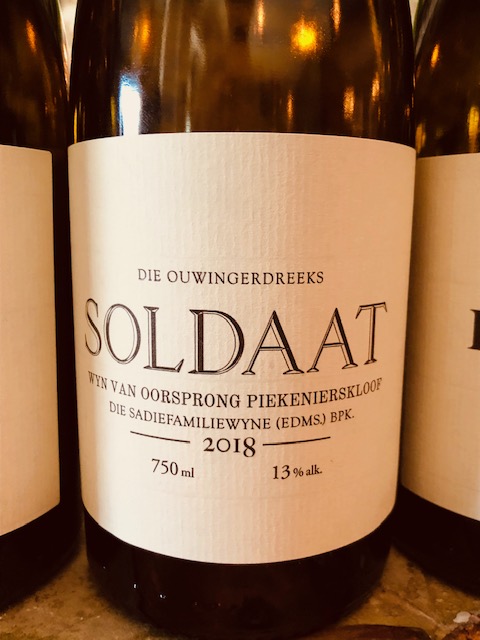 The first wine poured was the 2018 'Soldaat', a 100% Grenache from Piekenierskloof. Eben found this vineyard in 2009 and the first crop he harvested from it was only in 2011 as it took a lot of work to rehabilitate the vineyard. Today, it produces an incredible wine that has a herbal, perfumed nose with some spice and underlying red fruits – a bright, delicious Grenache with a super-long finish. Eben recommends keeping this for 5 – 10 years, saying that the 2012 is drinking beautifully now.

Next, he poured the 2018 'Pofadder', a 100% Cinsault from Riebeek-Kasteel. The Cinsault grape was the most planted grape in the Cape in the 1920's and during the 1950's – 1970's many of the wine estates produced excellent red blends containing Cinsault and a few single Cinsault bottlings, some that Eben has been lucky enough to taste. This fueled his intrigue with the grape and he has managed to produce a wine that is beautifully perfumed with a "sweetness" on the nose that is almost chocolatey. It is light-bodied with a transparent ruby colour, yet still has lovely, grippy tannins – a very palatable, enjoyable wine! Eben told us that he would drink up this vintage before the 2016 or 2017 as they were much more structured than the 2018 – in fact he stated adamantly "DO NOT EVEN TOUCH THE 2016 YET" …!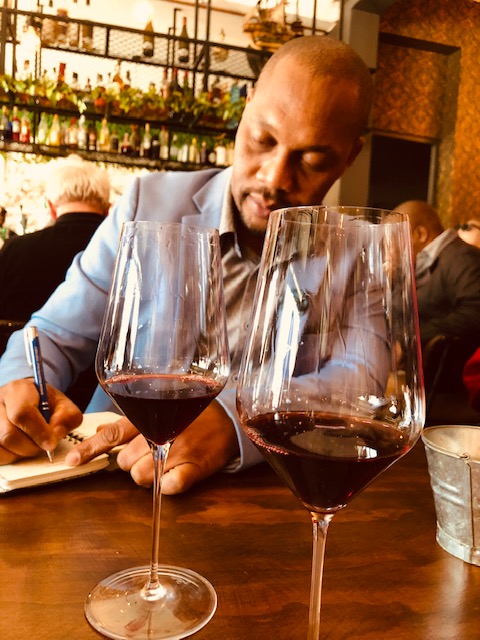 The 2018 'Treinspoor' is another interesting wine, made from 100% Tinta Barocca from a vineyard located near Malmesbury which is owned by Anthonij Rupert. Eben calls this a "bullet-proof grape", saying that this is one of the wines he recommends keeping it for 10 – 20 years before drinking it. "It is a wine that our children and grandchildren should enjoy," he says. Tinta Barocca was imported to South Africa in the 1970's with the idea to produce port or port-styled wines but Swartland Winery was one of the first to produce a Cinsault and Tinta Barocca wine in the 1970's. Eben excitedly stated that he found the vineyard that went into these original bottlings in the 70's! Gorgeous with ripe red fruits, licorice, and grippy tannins, it reminds of Christmas cake and sweet and savoury treats…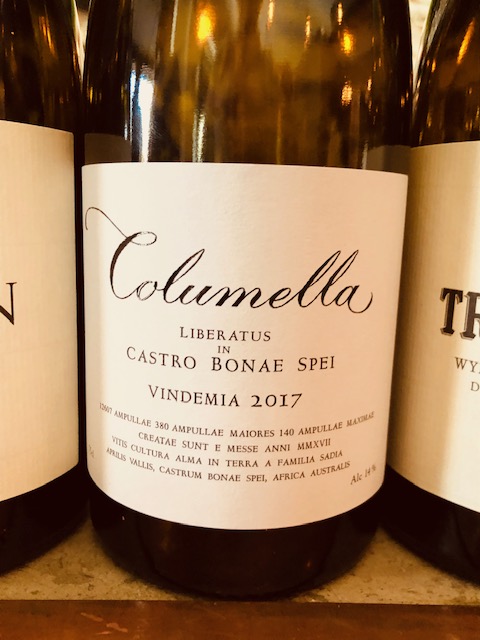 Lastly the Columella 2017 – Eben's only red blend which he is the first to admit that "I have absolutely no idea what the final blend is…" The biggest change with this wine over the years is the varietal composition – originally it was Syrah based (with more than 80%) but he quickly realized that Syrah was not the best-suited grape for the region and his style. In the 2017 he says that there is less than 50% Syrah with Grenache, Cinsault, Mourvèdre, Carignan and Tinta Barocca making up the balance of the blend. He stated that in the early days he made this wine much bolder and fuller-bodied but has changed his winemaking techniques over the years to produce a more elegant, sophisticated wine. "For the first 10 years we made this like coffee, now we make it more like tea…" he added that they make the Columella "decade by decade", revising the style and techniques only every 10 years and then run it like that for another 10 years before revising again. They will be looking at implementing new changes in December 2019 so watch this space…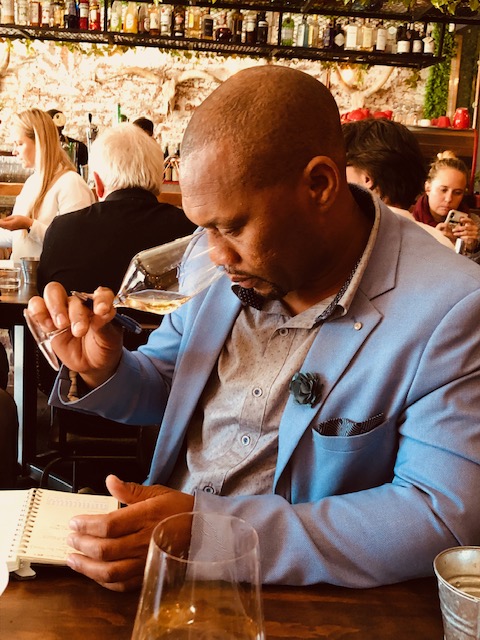 Finally, we moved on to the white wines and we started with a tried and trusted favourite, from a vineyard located barely 1km from the ocean, covered in 30cm of beach sand with 3-4 meters of chalky soils. The 'Skerpioen' is a field blend of Chenin Blanc and Palomino and again Eben admits that they have no idea what the final blend is. This vineyard is especially close to Eben's heart as it is very close to where he grew up – "for me, it was like coming home…" he says. There is a distinct ocean influence here with a mineral, salty nose and flavours of lime and sweet spice on the finish. "A good wine for Sunday morning… that's all I'm saying…" Eben laughs.

The 2018 'Skurfberg' is a 100% Chenin Blanc from a site that was found by Rosa Kruger and Eben calls it "one of the best recent finds they've had…" Located on a farm called "Arbeid's End", you can see Lamberts Bay from its highest vantage point. According to Eben, it was one of the vineyards that were badly affected by the drought and he had to pick a week earlier than normal. It is a wine with lovely white stone fruits and minerality that displays notes of marzipan and 'coconut-bake cookies' on the lingering finish. Simply gorgeous and probably one of the highest-scoring wines in the line-up!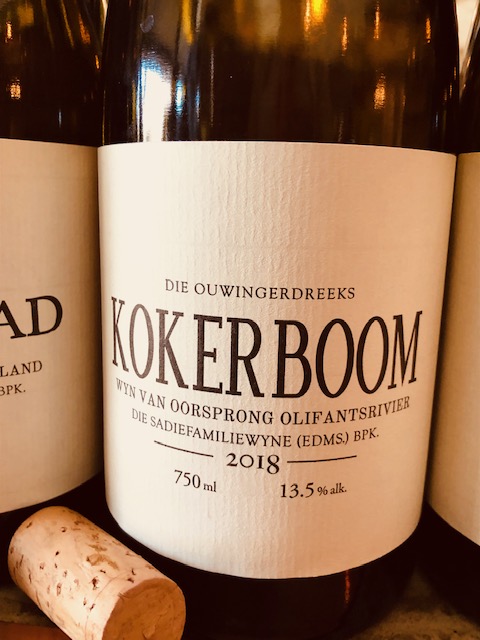 Then followed the vineyard which was the most severely affected by the drought, the 2018 'Kokerboom'. Eben says he had to pick a full 10 days before he was ready and this produced a wine that has distinct herbal, green flavours – "definitely one that will stand out from a line-up of 'Kokerboom' – 2018 is not characteristic of this vineyard". And while the green notes are evident on the nose, the palate is still mouth-filling and creamy with passionfruit and grapefruit notes. There is a slight herbaceousness in the finish which is not unpleasant but rather enjoyable… and in our opinion one that can be aged for many years.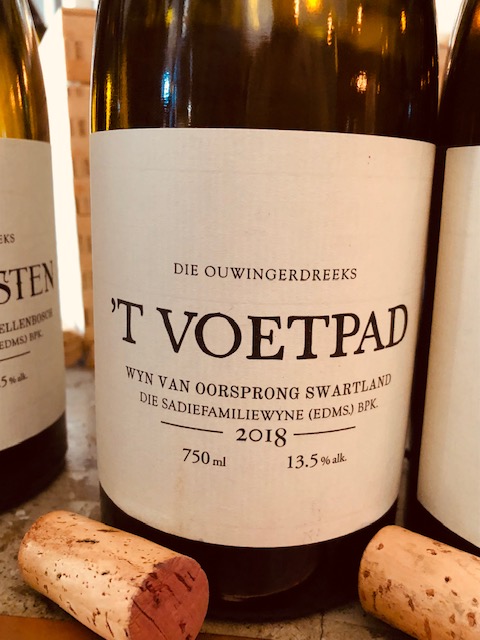 We then had a taste of the wine that Eben produced the least quantity of in 2018, the 'Voetpad' – from the oldest planted field blend vineyard in South Africa, situated in Piquetberg. "I only received 2 bottles of this vintage," he laughs, adding that "in 2019 we only produced about 140 liters so there will not be any 'Voetpad' available commercially". The blend contains about 40% Sémillon Blanc and Sémillon Gris, 30% Palomino, 30% Chenin Blanc and Muscat (less than 5% at this point). It has an aromatic profile with yellow fruits and is well-balanced with good grippy tannins. A wine to keep for the long haul…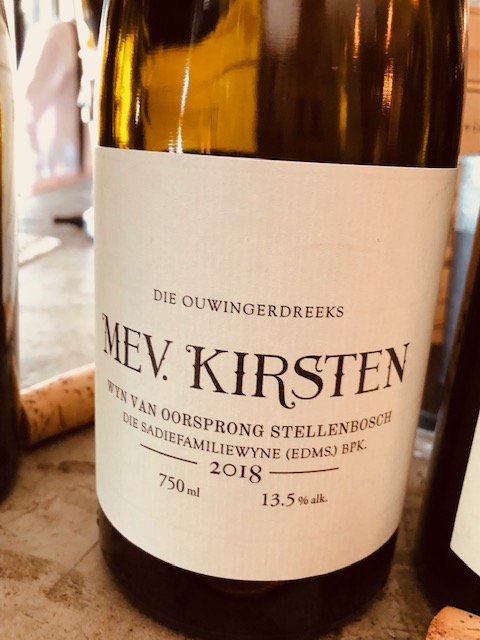 The next wine was from what Eben calls the "only Grand Cru quality vineyard in South Africa" – the 'Mev Kirsten'. A 1.2ha 100% Chenin Blanc parcel located in the middle of Stellenbosch, Eben says that this the vineyard that he has worked the hardest to rehabilitate – "in 2006 we only produced 300 bottles and we are now up to 3000 bottles in 2019" he states proudly. "Big and bold, but still agile and graceful… like a big basketball player." A blockbuster – keep this for 15-20 years before even daring to open it!

Finally, we ended the tasting with the 2017 Palladius – a blend of 11 varietals (Chenin Blanc, Grenache Blanc, Clairette Blanche, Viognier, Verdelho, Roussanne, Marsanne, Colombard, Sémillon Gris, Sémillon Blanc, and Palomino) across 17 vineyards in the Paardeberg. Straw yellow with white stone fruits and pear skins on the nose, this is straight and linear with great acidity and a lingering finish. Eben says the best vintages according to him is the 2009, 2011, 2016 and 2017.

It was an incredible morning with a winemaker that has been called "ground-breaking", a "visionary" and a true "pioneer for winemaking in the Swartland" – and it is all well-deserved in our opinion!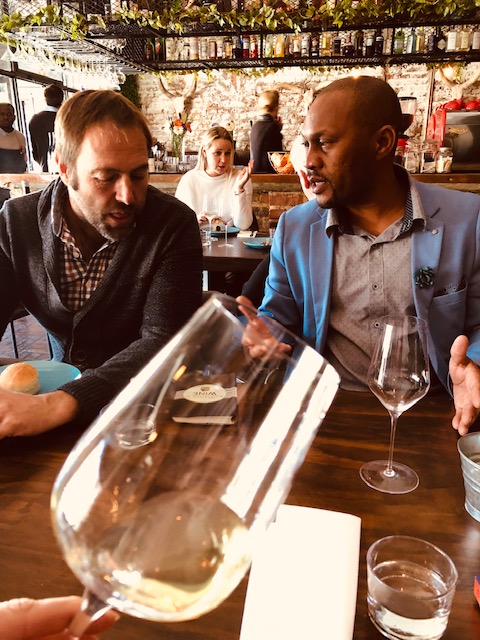 Thank you to Eben for a wonderfully interactive and fun, yet educational presentation and tasting… it is always such a delight for us to share his wines with him and to experience his enthusiasm and passion for these special projects…

Santé!

The Mosaic Cellar Team