Champagne De Sousa was established in the 1950's when Antoine de Sousa, the son of Portuguese immigrants, married Zoémie Bonville, from a family of winegrowers in Avize. For Erick de Sousa, patriarch of the De Sousa family, winemaking is not just a profession. It is a dedication, almost a religious calling. His wines are the expression of that passion.
As the exclusive importer of Champagne De Sousa, Restaurant Mosaic was excited to host the 1st ever tasting of De Sousa champagnes in South Africa on Friday, 6 September 2019! To get everyone salivating for these incredible champagnes, guests were welcomed with a glass of De Sousa Brut Tradition Nv in the luscious gardens of the Legacy Art Museum.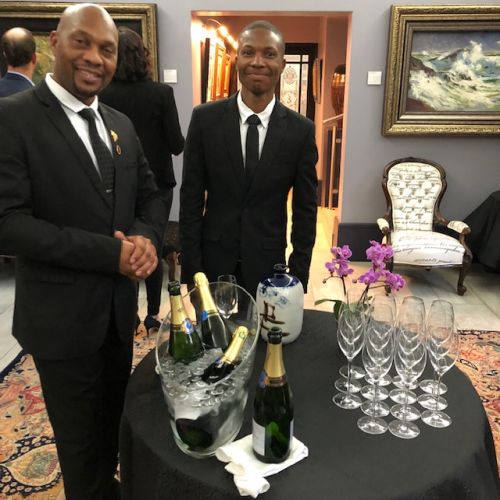 The formal tasting soon commenced and our Wine Director Cobus du Plessis introduced Champagnde De Sousa to our guests, providing a little background on the history of the estate and its prime location in the Champagne region of France.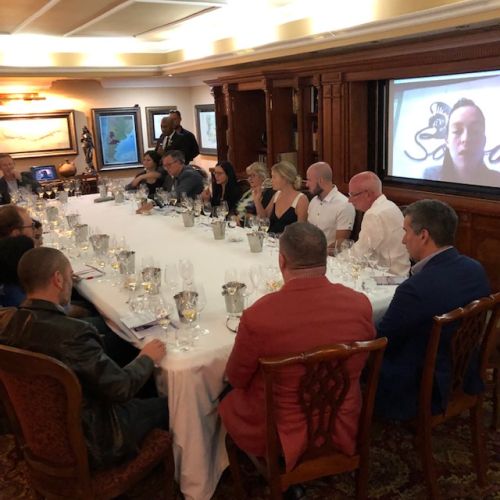 He then welcomed, via a live Skype uplink, Erick de Sousa's daughter, Charlotte, who is the current winemaker alongside her father, as she presented a line up of some of their best champagnes!

Guests had to opportunity to taste each champagne as Charlotte explained the philosophy behind the names and winemaking techniques implemented to create these diverse champagnes...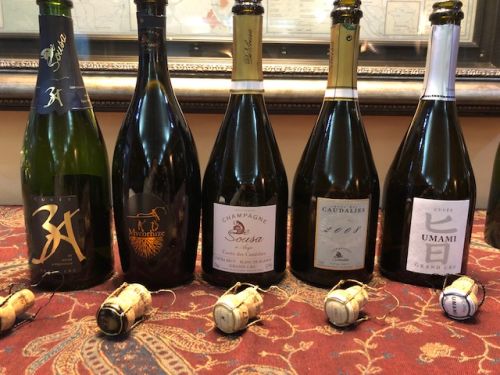 De Sousa Cuvée 3A Nv
Made from 50% Avize (a village classified as a Grand Cru Chardonnay), 25% Aÿ (a village classified as a Grand Cru Pinot Noir) and 25% Ambonnay (a village classified as a Grand Cru Pinot Noir). "Two varietals, three Grands Crus" - each lending their own personality to the cuvée.
Cuvée Mycorhize Grand Cru Extra Brut Nv

A dedication of Erick's love for these noble terroirs, which has been passed down to his 3 children - Charlotte, Julie and Valentin.
De Sousa Cuvée des Caudalies Blanc de Blancs Grand Cru Extra Brut Nv

"Cuvée des Caudalies" is a Blanc de Blancs which is vinified entirely in oak barrels (15% new). The grapes come from vines which are over 50 years old.
De Sousa Cuvée des Caudalies 2008

Made from a selection of the best juices from 50 year old vineyards and was kept for 10 months in oak barrels.
De Sousa Cuvée Umami Grand Cru Extra Brut 2009

For this cuvée, they refer to the consistency generated by the natural matter of grapes from old vines.
UMAI = delicious MI = taste UMAMI = tasty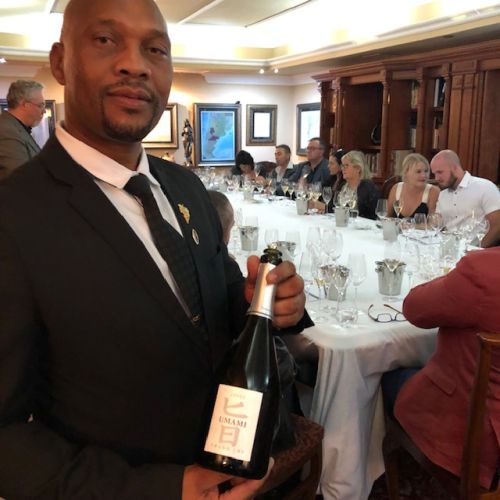 Guests thoroughly enjoyed the range of champagnes and was especially charmed by Charlotte as she passionately spoke about the making of these "babies"... It was very clear that the De Sousa family is serious about their champagnes and our guests all agreed that these are indeed beauties that can be kept in the cellar for years...

Thank you to Charlotte for taking the time out of her busy schedule, right before the harvest in Champagne, to present their champagnes to our guests.

We are proud to have Champagne De Sousa in the Mosaic Cellar and look forward to welcoming Charlotte to Restaurant Mosaic in person for our next tasting!

Santé!

The Mosaic Cellar Team