The Mosaic Team has been acquainted with Belgian winemaker, Koen Roose, since he first started making wines in the Elgin Valley. We have closely followed his path as he repeatedly pushed the boundaries of what is expected, discovering in the process the "magic" of his terroir… We bared witness to the many challenges he faced and conquered over the past decade to finally arrive at a space where he has created a range of wines in his unique "Spioenkop-style", while still keeping true to the Elgin terroir.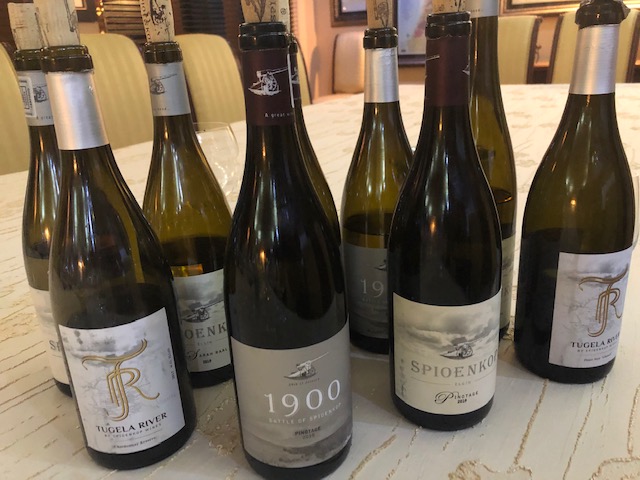 A dear friend of Restaurant Mosaic, the sommelier team was very happy to welcome Koen back to show us what he has been doing on the farm for the past year. Accompanied by friend and colleague Marine Point, a young sommelier from France, Koen shared with us that he look forward to expanding his brand nationally and internationally even more, which he happily says will "give me more time to do what I love – take care of my vines and continue making wines that reflect who I am".

As always, we thoroughly enjoy tasting Koen's wines, whose passion and determination is reflected in all of his wines. Here are a few notes on some of our old favourites, as well as a few new wines produced from the more "classical Elgin varieties", Chardonnay and Pinot Noir, with sommeliers and chefs in mind, under his new Tugela River Wines label: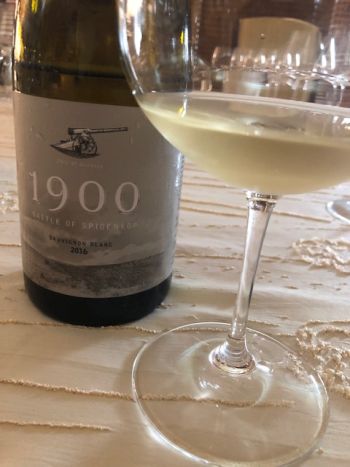 1900 Sauvignon Blanc 2016

Previously sourced from other vineyards, Koen is very proud to announce that from this vintage the 1900 range is also created with 100% Elgin grapes grown on the Spioenkop farm. Typical of the "Spioenkop-style", this is a wine that Koen describes as a good reflection of his personality – despite 2016 being the first year of the drought that plagued the Cape, with relentless dedication and hard work, Koen managed to create a wine that is outstanding.

Glass: Riedel Montrachet / Chardonnay

Colour: The colour is bright and clear, with slight green tinges.

Bouquet: The first impression on the nose is a shy herbaciousness, more limey than tropical, with notes of fennel and green hay, which is enhanced by a stone fruit character.

Palate: A superbly broad mouth-feel with good texture and pronounced salinity, showing flavours of quince, stone fruit and a lovely balance between the sugar and acidity.

Ageing: While this is a wine that can be aged in the cellar, Koen recommends to drink within the next 5 – 6 years to enjoy at its optimum.

Pairing: We recommend to pair this wine with a sumptuous Italian summer salad with fresh tomatoes and Mozzarella cheese.

Score: 91/100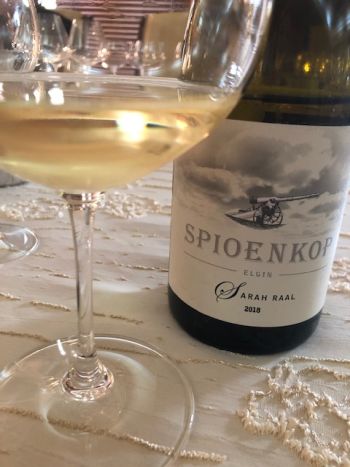 Spioenkop Sarah Raal Chenin Blanc 2018

Following in the success of the 2017 vintage, this lovely Chenin Blanc from Ferricrete terroir, is Koen's homage to the Anglo Boer War and especially the role women played. A prisoner in a concentration camp at Springfontein until her escape, when she joined her brothers on commando and took part in a number of guerrilla engagements, Sarah Raal displayed considerable bravery. And this is exactly what Koen has created… a wine that is brave but not too bold, one that can live forever in your heart and mind and which is a firm favourite of the Mosaic cellar team.

Glass: Riedel Montrachet / Chardonnay

Colour: Pale yellow, clear and bright.

Bouquet: With an immediately expressive nose of citrus, exotic spices, stone fruit, kumquat, "botterblommetjies" and chamomile tea, this is simply sublime in its elegance and finesse.

Palate: There is a beautiful salinity on the palate with waxy, lanolin notes – feminine and light, evolving ever so slowly in the glass to show nuances of sweet biscotti. The finish is endless and moreish…

Ageing: This is a wine that can age for many years and we would recommend to keep it for at least another 8 – 10 years in the cellar.

Pairing: This is a feminine light wine - not at all overpowering – best served with white fish like sea bass in an ethereal light sauce.

Production: Only 2 200 bottles produced and aged in three old oak barrels.

Score: 93/100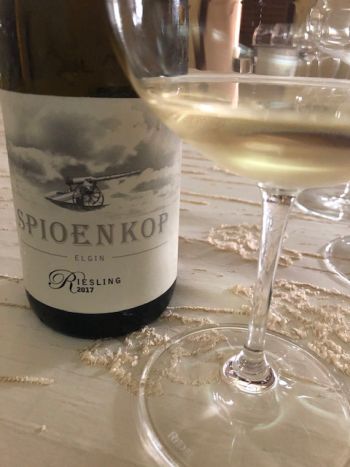 Spioenkop Riesling 2017

One of the pillars on which Koen has built his Spioenkop range, his Riesling is considered one of the finest in South Africa and it remains as one of Mosaic's favourites and probably the most iconic wine made at Spioenkop.

Glass: Riedel Montrachet / Chardonnay

Colour: Lovely pale yellow in the glass.

Bouquet: The first whiffs from the glass affirm the true character of a well-made Riesling and adding to that, transports you to a bygone era – imagine an old library with the comforting smell of old leather furniture, wood polish, spice and potpourri. After some time in the glass subtle hints of rosewater appear – nectarine, dried apricot and pear - elegant, feminine yet still typically Riesling.

Palate: The flavours found on the nose follows through to the palate and is supported by a subtle mineral core and lively, fresh acidity.

Ageing: A wine that can be enjoyed now but can also age for another 7 – 10 years.

Pairing: Broad and all-encompassing, this is a wine to savour with fine Thai-style dishes.

Score: 92/100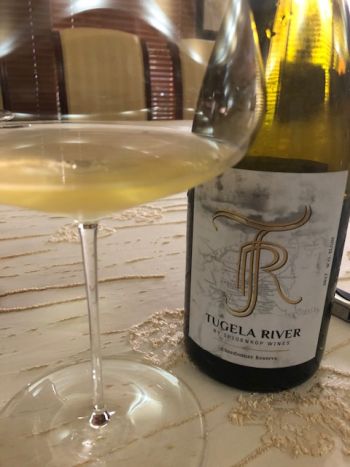 Tugela River Chardonnay Reserve 2017

Koen is passionate about his newly released Tugela River range – he states that this is the only Chardonnay block on the first finger slope (one of the six fingers) located on the Spioenkop hill in Elgin, which is now showing off beautifully after 6 years of root development... "a beauty with an amazing future" …

Glass: Zalto Burgundy

Colour: Lovely pale yellow in the glass.

Bouquet: Delicate nose with creamy vanilla notes, light butterscotch and a slight oakiness, with hazel nuts, that is expressive and complex.

Palate: The palate has a soft entry with broad texture and lovely limey and floral notes that lingers. This is feminine and elegant, with a long and pleasant aftertaste.

Ageing: We all agreed that this is a wine that can age for many years but Koen recommends that this be enjoyed now or within the next 5 – 6 years.

Pairing: An elegant wine that will do well with fine dining – perhaps fresh seafood with a delicate citrus sauce.

Score: 90/100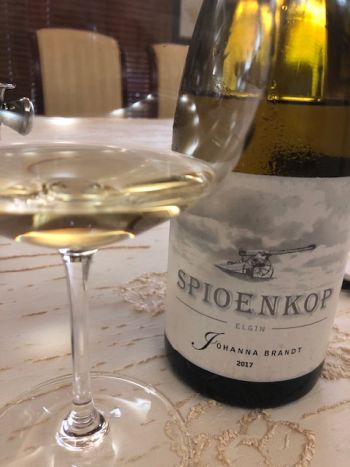 Johanna Brandt Chenin Blanc 2017

Another woman from the Anglo Boer War that Koen pays tribute to, the Johanna Brandt is a wooded (eleven months) Chenin Blanc from the slopes of the Spioenkop farm. Lauded as a visionary, prophet, spy and writer with some political influence, she inspired a wine that is bold and opulent and just simply unforgettable.

Glass: Riedel Montrachet / Chardonnay

Colour: Lovely pale yellow in the glass.

Bouquet: A beautifully expressive nose with vanilla notes from the wood ageing, supported by flint and wet stone characters, leading the way to sexy aromas of citrus, frangipani, almonds and Oriental spice. Still a little restrained in its youth.

Palate: The palate is broad with sweet perfume notes and citrus flavours that complements the fine mineral edge – this is a wine that is meant to age and will obtain more complexity with time in the bottle.

Ageing: Definitely a wine made for ageing – try this again in another 10 years.
Pairing: A food wine – it can be paired with anything from quail to fish, depending on the sauce.

Score: 93/100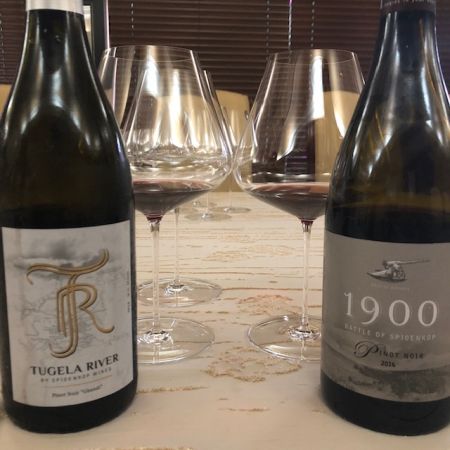 Tugela River Pinot Noir 2016 – "Gandhi"

From 100% Pinot Noir sourced from the Gandhi vineyard on the slopes of the Spioenkop hill, Koen muses that he made this wine specifically for two people - Marine and Axel (her partner at On-Point Wines). Marine is very passionate and outspoken about this Pinot Noir, telling us that "there is just something about this vineyard that speaks to me…"

Glass: Zalto Burgundy

Colour: Pale ruby colour.

Bouquet: An initial and distinct farmyard nose, then aromas that reminds of old gun oil, rusty nails, and fine aged leather, followed by notes of dried prunes and wild strawberries.

Palate: This has a fine tannin structure with a sweet entry leading to notes of mushroom, sour cherries and cranberry flavours on the palate. There is also a pronounced herbaciousness that lingers throughout the finish. This is a complex and intellectual wine.

Ageing: This a wine to keep in the cellar and only take out in company that can appreciate its complexity. Keep for 10 – 15 years but share it with the right people when you get the chance!

Pairing: Pair with pigeon or quail in a lovely cherry sauce.

Score: 90/100

1900 Pinot Noir 2016

From 100% Pinot Noir grown on the slopes of the Spioenkop hill, the 1900 is a blend of two vineyards that Koen affectionately calls "The Two Generals". He is not shy to state that he is still working on perfecting this Pinot Noir and might release these as single vineyard Pinot Noirs in future… "who knows what I will do" he laughed.

Glass: Zalto Burgundy

Colour: Pale ruby colour – slightly lighter to the edge as the Gandhi.

Bouquet: This has notes of freshly cut meat and gun smoke on the nose at first followed by a slight hint of fennel and Boudoir biscuits. This is less fruit driven but has a complex range of alternate aromas.

Palate: The palate is a direct opposite to the nose with sweet red fruits, sour cherries, cranberries, pomegranate, violets and a stalky herbaciousness that is simply delicious.

Ageing: This is very accessible now or can keep for the next 5 – 7 years.

Pairing: Pair with delicate dishes like game birds and accompaniments or sauces.

Score: 90/100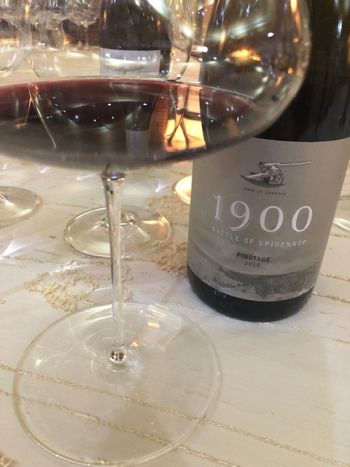 1900 Pinotage 2018

The 1900 Pinotage is made from Bottelary grapes and is a tribute to Koen's mentor Francois Naude - 20% whole-bunch fermentation and matured for 11 months in 55% new French oak.

Glass: Zalto Burgundy

Colour: Intense dark ruby red colour with a slight purple tint towards the edge.

Bouquet: This opens with notes of red fruit which leads to complex aromas of coffee, chocolate, black cherries and plums.

Palate: This is smooth and silky on the entry with a slight plummy note and hints of graphite – complex but not overly bold.

Ageing: Accessible and very enjoyable now but can be aged for another 5 – 6 years.

Pairing: A wine to invest in - this is delicate and has a perceived sweetness that will complement Chantel's style of food beautifully – maybe Waterbuck with a rich meaty sauce.

Score: 92/100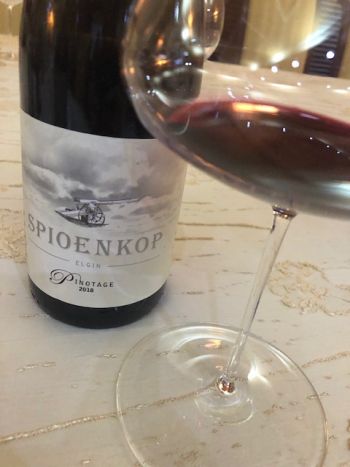 Spioenkop Pinotage 2018

The Spioenkop Pinotage is from 100% Pinotage grapes grown on the slopes of the Spioenkop hill and was matured for 11 months in 80% new French oak. The style of Pinotage that Koen is famous for and one of the most consistently highest scoring wines in the Spioenkop range.

Glass: Zalto Burgundy

Colour: Intense dark ruby colour with an almost tawny tint towards the edge.

Bouquet: This is more perfumed on the nose with hints of potpourri, white pepper, graphite and lead pencil shavings.

Palate: Soft entry with a red and black fruit core that has a slight stalky herbaciousness on the palate.

Ageing: We recommend to keep this wine in the cellar for the next 8 – 10 years to allow it to open up more.

Pairing: Still shy now, but with ageing this will pair well with game and game birds like Guineafowl.
Score: 93/100
These are all lovely, well-thought through wines that makes you think - as Koen likes to say – "A good wine starts in your head…"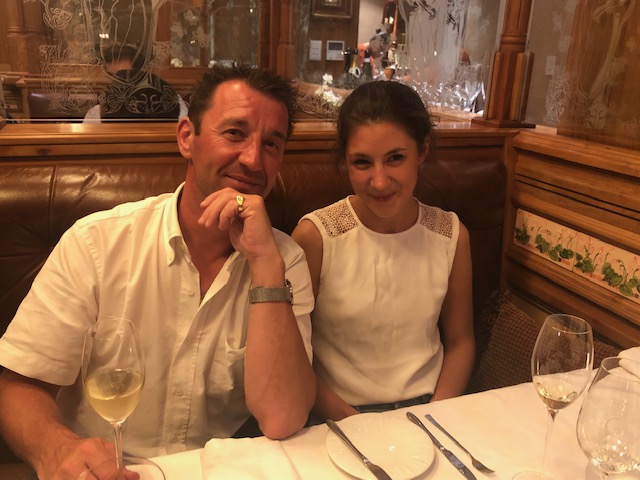 As always it was a pleasure for us to have Koen at Mosaic and our guests can be sure to look forward to see more of these beautiful wines featured on our wine list soon!

Santé!
The Sommelier Team