The Mosaic Team was excited to be back in the saddle again and eager to start tasting wines to find the perfect pairings for Chantel's new botanical creations that will be presented in her Autumn Menu, which will be launched during the Equinox in March.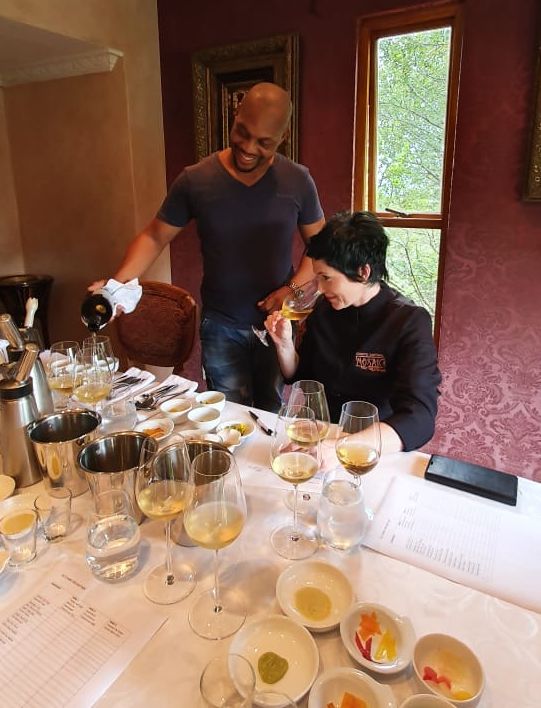 The very first deconstructive tasting of the new year was a true revelation… and if this is any indication of the year ahead, it will be extraordinary! Chantel has brought to life a delightful creation that is mysterious and ethereally beautiful, taking us back to the essence of nature. So of course, we chose a wine that we felt truly expressed its terroir to complement the freshly farmed ingredients… and it turned out to be the quintessential perfect pairing!

This CWG Auction Reserve Chardonnay from Teddy Hall is a true expression of its terroir, enhancing the flavours of the ingredients and bringing the creation together like a beautifully composed symphony. It was chosen from a collection of different wines from our cellar to be paired on the Autumn Menu with Chantel's new dish, called "Autumn Dreamtime"

Teddy Hall Cape Winemakers' Guild Maria van Swaanswijk Chardonnay Auction Reserve 2012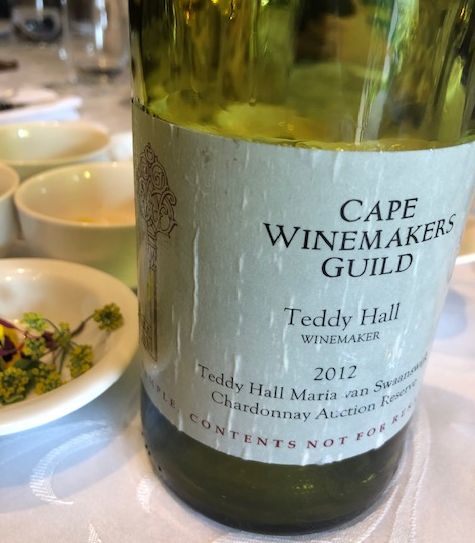 Chardonnay grapes sourced from vineyards between Stellenbosch and Somerset West were hand-picked, crushed and pressed. The juice was put into French oak barrels and allowed to undergo 100% natural fermentation.

Glasses: Riedel Burgundy Grand Cru

Colour: This wine boasts a golden straw colour with a transparent rim – it is bright and clear with no sediment and showing no age despite being 8 years old.

Bouquet: On the nose are dominant stone fruit aromas with white pears and apples as well as dried apricot. It has a typically Chardonnay character, with barely a hint of the oak maturation.

Palate: It has a feminine feel, not overpowering and bold, but gracefully suave and sophisticated, a slight salinity on the mid-palate – it is fresh, linear and lean with a flinty edge. A pleasant, more serious wine to share in good company, with a lingering herbaceous aftertaste.

Ageing: Perfect to drink now but it will be interesting to see how this will be developing over the next 5 years (if there is anything left after that).

Pairing: The wine performed very well with the components of Chantel's dish, both individually, as well as combined - vegetables such as beetroot, carrots, asparagus and avocado! A vegetarian's delight!

Score: 92/100

We look forward to sharing this first perfect pairing with you soon at Mosaic!

Santé!

The Sommelier Team