The Prue Leith academy honoured 5 of their alumni graduates, including Chef Chantel Dartnall, with awards of excellence during a celebratory evening where the unveiling of the academy's freshly designed logo and brand video took place.
The week will end with an 80th birthday celebration for Prue Leith, at Restaurant Mosaic, where Chef Chantel is the Patron. The Prue Leith Chef's Academy, prides itself in producing world class chefs through the medium of quality, practical and theoretical education. By creating an environment of excellence, their graduates are guaranteed a springboard into a bright future and the 5 distinguished alumni are indeed testament to this.
Chef Chantel - Chef Patron of Restaurant Mosaic at The Orient on the outskirts of Pretoria, is an inspiring role model for any aspiring young chef. The academy honoured her for her role in representing South African culinary excellence on the world stage. After graduating from Prue Leith's academy 20 years ago, Chef Chantel has gone on to open Restaurant Mosaic at The Orient in 2006 and has twice been voted Chef of the Year at the Eat Out Restaurant Awards in South Africa, and voted The Best Lady Chef in the World in 2017. She has most definitely carved a culinary legacy for herself, and South Africa!
A highlight for Chef Chantel was the opportunity to meet with Prue Leith for the first time since graduating as well as the privilege to host Prue as the guest of honour for her 80th birthday celebration. When reflecting on the significance of meeting Prue, Chef Chantel said: "She was a fundamental cornerstone in the lead up to my career and where I am today. In her own right, she is one of the most prominent female chefs and she is noticed and recognized globally. It is a huge honour for me to be in the presence and shake the hand of somebody who has literally changed the culinary world. She has not only educated but shared her amazing knowledge throughout her illustrious and inspiring
career".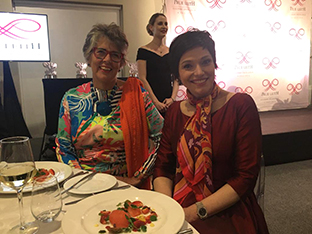 It is no doubt that Prue Leith and Chef Chantel will both leave a legacy that will echo in South Africa, and the rest of the world. Theirs are tales of hard-work, excellence, and a true passion for the culinary arts.
Phone: +27(0)12 371 2902/3/4/5

Email: reservations@restaurantmosaic.com
Website: www.restaurantmosaic.com
& www.the-orient.net