For aficionados of fine wine, the mythical Corton-Charlemagne, in the Côte-de-Beaune region of Burgundy, needs little introduction, being one of most prestigious vineyards for the production of world-class Chardonnay in Burgundy… if not the world!

The history of Corton-Charlemagne dates back to the time of the Roman Emperors, and in fact, this historic vineyard is the only one in the world to carry the name of two Emperors; the Roman Emperor, Otho and the Holy Roman Emperor, Charlemagne. These vineyards were gifted by the Holy Roman Emperor, Charlemagne, to the Abbey of Saulieu, where it remained in the possession of the monks for nearly a 1000 years. To this day, the villages of Aloxe-Corton and Pernard-Vergelesses, which surrounds the Corton-Charlemagne vineyards, displays the emblem of Charlemagne, the two-headed eagle, on the coats-of-arms of both towns.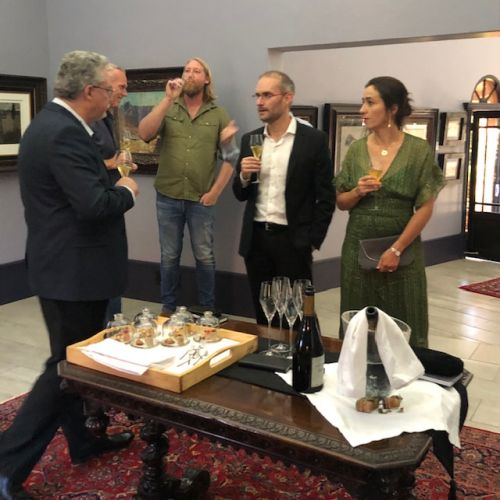 Few people know that Restaurant Mosaic received its name 15 years ago, in 2005, when Chef Chantel returned from working abroad alongside Michelin-star chefs and had but one dream… to open a restaurant that would celebrate nature and bring people together. In honour of this milestone, our cellar master has collected wines produced from this iconic vineyard from the 2005 vintage for many years… and finally our patience has been rewarded!

On Friday evening, 6 March 2020, Restaurant Mosaic hosted an event that was nothing short of magical, as we finally opened six wines from different producers in Corton-Charlemagne from the celebrated 2005 vintage. Presented by a long-time friend of Mosaic, Cape Wine Master, Junel van der Merwe, who was the first sommelier at Mosaic and instrumental for the initial growth of the Mosaic cellar into a world-renowned wine cellar.
The Corton-Charlemagne vineyards covers about 72 ha of prime location around the Hill of Corton and have the only west-facing Chardonnay vineyards in Burgundy. From this area, more than 70 different Domaines produce Corton-Charlemagne wine, with some, such as the renowned, Domaine J.F. Coche-Dury, owning little more than 0.3 ha, with Maison Louis Latour the biggest owner with 9 ha. It is no wonder that these wines are incredibly rare and hard to find - so it was with bated breath and beating hearts that we opened these six bottles for our horizontal tasting of the 2005 vintage: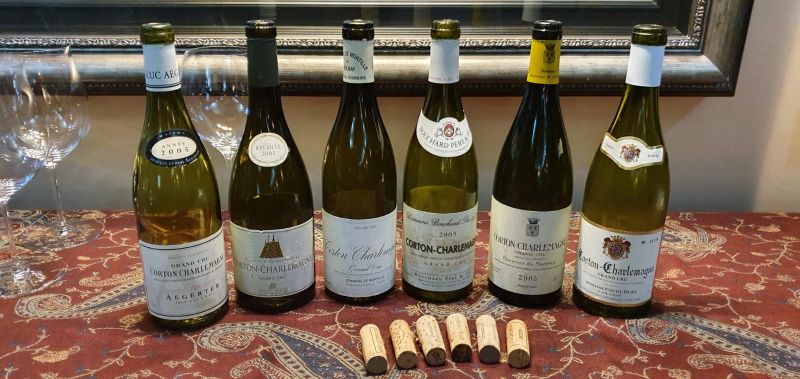 Domaine Aegerter Corton-Charlemagne 2005:

The first wine of the evening was from Domaine Aegerter, which was founded by entrepreneurial father and son team, Jean-Luc and Paul Aegerter. This effort from this dynamic duo is a lovely golden colour in the glass, showing just a hint of its age. This wine was buttery and full-bodied with an unparalleled richness, displaying hints of honey and baked apple. Simply astonishing with its concentration and balance, despite its age, that lingers on the seamless finish.

Domaine Pierre André Corton-Charlemagne 2005:
This Domaine dates back to 1927 and despite having changed ownership several times since being founded, it has a reputation for producing good quality Corton-Charlemagne wines. From 2004 – 2014 the wines were made by Ludivine Griveau (who is the first female winemaker in the history of Hospices de Beaune) and the current winemaker, Caroline Frey, who is continuing the tradition of talented female winemakers at this historic Domaine. A beautiful yellow-gold colour with a nose that seduces with the delicacy of its butter-notes and flint. Not as full-bodied on the palate as the previous wine, it was more linear with a fine acidity that leads to a lingering finish.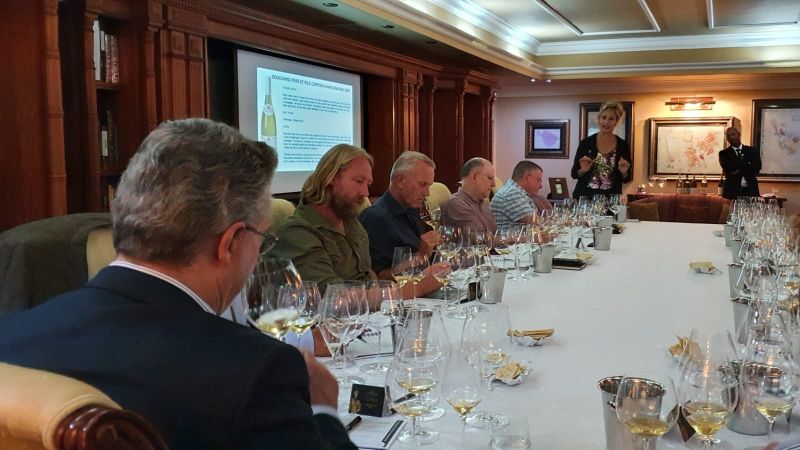 Domaine de Montille Corton-Charlemagne 2005:
One of the well-known Domaines in Burgundy, Domaine de Montille produces a wide range of excellent wines and their Corton-Charlemagne did not disappoint. Lighter in colour than the previous two wines, it sparkled in its sunshine brilliance. Initial a notably tight and restrained nose with refined floral and mineral-infused aromas. This was delicious, racy and relatively firm, with broad flavours that deliver extraordinary intensity and crystalline purity - a firm favourite among many of the guests around the table.

Domaine Bouchard Père et Fils Corton-Charlemagne 2005:
This is one of the oldest Domaines in Burgundy, dating back to 1731, and they own an impressive 3,67 ha of the Corton-Charlemagne vineyards, making it one of the most widely known wines from this region. With a brilliant and intense straw yellow colour, on the nose there are notes of stone fruit, marzipan and charred oak, which are both subtle and complex. This was powerful on the palate, with captivating, pure flavours of pineapple, wet stone and minerals. Wonderfully sweet and smooth on the back palate, with a lovely light touch and a dusty, tactile aftertaste.

Domaine Bonneau du Martray Corton-Charlemagne 2005:
When you think of Corton-Charlemagne, Bonneau du Martray is perhaps the most well-known name that comes to mind, right after the acclaimed Domaine J.F. Coche-Dury. They own a staggering 9,5 ha in this famed vineyard and have recently signed a long-term lease with another legendary Domaine, Romanée-Conti, who will soon release their first vintage of 2019. Winemaker, Jean-Charles de la Morinière, has here produced an extraordinary wine with a lovely golden hue that is clear and brilliant. Pure buttered popcorn notes overwhelm the nose when you first sniff the wine. This is followed by notes of fresh lemon, lime and vanilla after some time in the glass. A lovely dancer with lots of lemony acidity. This is an understated stunner of a wine - ultra-refined and one of the best examples of this appellation in 2005.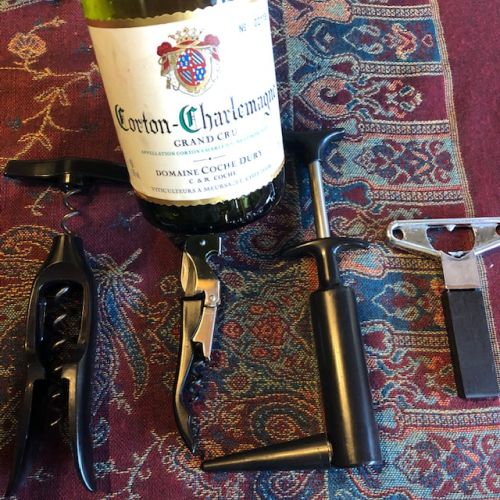 Domaine J.F. Coche-Dury Corton-Charlemagne 2005:
This famed Domaine is to Corton-Charlemagne what Domaine Romanée-Conti is to Vosne-Romanée - it is the uncrowned "King of Corton". Originally founded in the 1920's, Jean-François Coche has consistently produced world-class and highly acclaimed wines from this vineyard and is known word-wide by wine connoisseurs for their traditional "no-nonsense" approach. This showed a brilliant golden straw colour and on first impression showed a trace of the typical underlying struck match aroma – with wonderfully fresh and ripe aromas of white peach, floral notes, pear and the barest hint of exotic tea that charmed the nose. Wonderfully sweet and rich, gaining breadth and texture as it mounted on the back of the palate. This wine was all about energy and verve – a monumental, utterly complete Corton-Charlemagne that combines extraordinary subtlety and complexity with intense, palate staining minerality. Simply superb.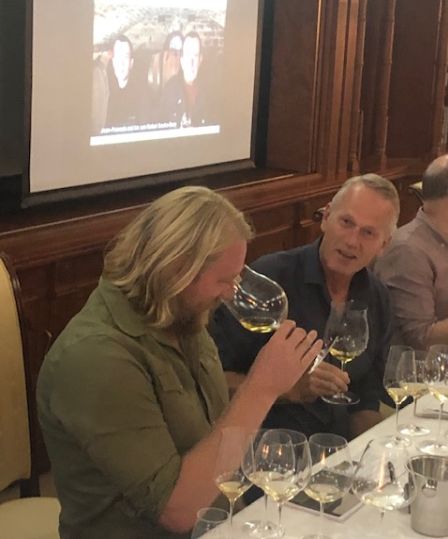 Our very own South African maverick winemaker, Donovan Rall, who flew specially from Cape Town for this tasting – in fact only to have a taste of the last wine of the evening, the Domaine J.F. Coche-Dury, was literally brought to his knees by the beauty of this wine - it was a beautiful moment where we relished the brilliance of the winemaker in creating a wine that has such an emotional reach.

After the formal tasting, Chef Chantel treated everyone to an exquisite 6-course dinner, served in the tasteful and intimate Exhibition Room of the Orient, with guests sharing in this 'hedonistic' feast around the table. More delectable and iconic wines were served during the evening with names such as: Maison Louis Latour Corton-Charlemagne 1998, Domaine Bonneau du Martray Corton-Charlemagne 1987 and Champagne Salon 2002, to name but a few.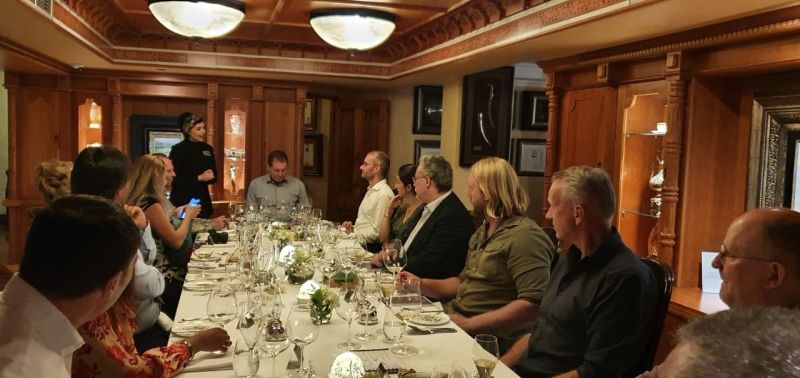 It truly was an evening that will be remembered and rehashed on special occasions, where you can sit in front of the fireplace and reminisce about that time you had the opportunity to enjoy a glass of Corton-Charlemagne 2005!

Santé!

Cellar Team